The game has begun! Big Brother 14 Houseguests have entered the house and begun the battle for the half-million dollar prize. CBS released this image late Saturday showing a small group of the new Big Brother cast entering the house's front door.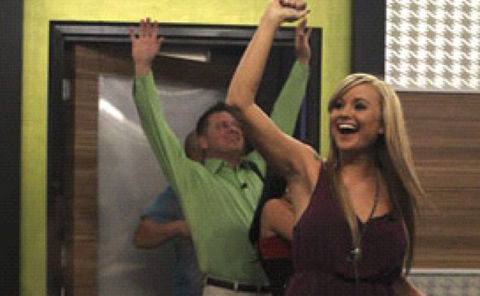 click to see full image
You can see Big Brother 14's Kara Monaco, Joe Arvin, JoJo Spatafora, and Willie Hantz celebrating their arrival in the Big Brother 14 house. While it appears in this picture that Kara was the first to enter the game it's important to remember past seasons. During BB12 CBS released a similar picture showing Andrew coming through the door, but it was out of order and Rachel was actually the first to arrive. This point is interesting because no "first to enter" HG has ever won Big Brother. Well, not in their own season at least since Rachel obviously came back and won the next year, but that doesn't count.
The next time we'll see these HGs is during Thursday's Big Brother 14 premiere on CBS at 9PM ET/PT and then again when the Live Feeds begin that night at 1AM ET (10PM PT) along with Big Brother After Dark. If you don't have your Live Feed account yet then there's still time to get the Early Bird discount rate before it expires on Wednesday.
Be sure to join us on Facebook, Twitter, get our email updates, and in our Forum so you make sure to get the latest Big Brother spoilers as they arrive. Here we go!
Update: CBS has released the first high-quality photo featuring the new HGs plus 4 mysterious HGs, but we already have a good idea of who those returning veterans are.
click to see full-size image