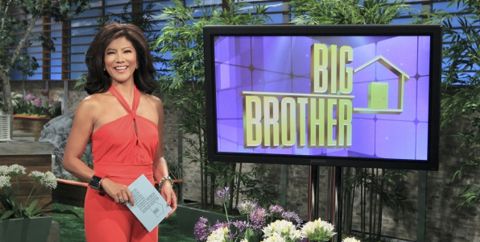 There's more Big Brother 14 tonight on CBS (8/7c) when the latest Veto competition and ceremony events episode arrives. Now that Frank's HoH nominations have been made known this week's nominees, Joe and Wil, will have the chance to fight for their Big Brother lives and stay another week in the competition.
If you're too anxious to wait and find out who wins the competition and how the ceremony turns out then check out our Big Brother spoilers board for all of the results.
Things have been pretty quiet in the house this week, but the show should still be lively with the arrival of the Zingbot 3000 as part of this week's Veto comp. Of course there was drama that we're not likely to see when the person in the Zingbot costume suffered heat exhaustion despite the comp being held at night.
Speaking of things heating up at night, did you see Frank and Ashley's date in the HoH room last night? It lasted hours and ended in a series of make out sessions. This might not be a full blown showmance, but I think we might see things develop a little more.
Check back in tonight to discuss the show live with other fans and read our recap of tonight's Big Brother episode. Don't forget to join us on Facebook and Twitter.