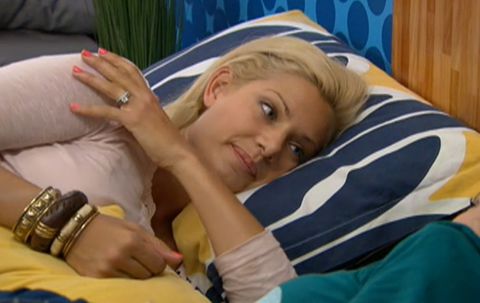 Last week on Big Brother 14 CBS posed a question to viewers: should the coaches be allowed to enter the game and compete for the half-million dollar prize? This is a scenario the coaches have discussed and debated from the very first week. Now it seems ready to happen thanks to coaches' whispers on the Live Feeds.
Many of the "America Votes" cynics out there, like myself, didn't give much weight to the idea that if America voted "no" then the coaches would actually not be presented with the option. We've seen several past votes were the polls from CBS were bogus (reference preseason BB13 & BB14 polls on returning HGs) and really just intended to drum up interest. This position is supported by the fact that coaches were told days ago about this upcoming "chance" well ahead of when the voting actually ended.
Flashback to Tuesday, July 31 at 8:28PM BBT on Cams 1/2 to hear Janelle and Britney discussing the situation. The "Button Boy" who works to prevent sensitive information from going out over the Live Feeds misses Janelle telling Britney "they told me yesterday" at 8:29.30 PM BBT before jumping back to fish. Then Feeds return at 8:30.17 and we hear Britney say "we're going to have a choice?" Janelle confirms and says they'll have to give up the $100K opportunity in their contract to go after the $500K.
Both Britney and Janelle agree that they'll enter the game. They think they have a good shot at knocking out all of the Newbies and just making it the coaches at the end.
No word on whether Dan and Boogie were also told about this upcoming choice or where they stand on the decision. I suspect Janelle was told so she could negotiate the arrangement as she's made it clear that she has no intention of going to Jury House if she was knocked out. I'm guessing she's anxious to get back to her baby.
On top of all that, CBS released a new promo (watch it below) last night immediately after the broadcast which heavily hints that the coaches are coming in to the game. CBS calls it a "surprise" but I think we know better than that. What do you think of all this?