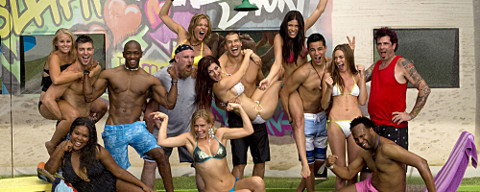 Now that we're into the second week of Big Brother 13, we've all gotten to know the house guests so it's time to take a look at how everyone is doing and who could end up making it all the way to the end.
I'll just go ahead and give you a complete rundown of all the HGs and my thoughts on them:
Keith: He played a terrible game and is gone already. There's really not much else to say. BUT, there's talk that he's in sequester, which leads to more talk about the possibility of a returning house guest later in the season. There's a good chance for this to happen, especially since its been done before and since Evil Dick had to leave the game early.
Porsche: There's not much to say about her yet. There's not a lot to like about her but also not much to dislike about her. She did do something right the first week (align with the vets) and that got her the first golden key. So she's here for another couple weeks. Don't expect her around much longer than that though.
Cassi: I like her. Not only is she beautiful, but she's strong and smart. Her only mistake so far was getting on Rachel's bad side. But much like Kristen last season, I'm not sure if that was avoidable. I don't know why Rachel hated Kristen last season and I don't know why she hates Cassi this season. Some things Rachel do are impossible to explain. I'm hoping when she goes home Thursday (it's pretty certain she will exit the game this week), she'll go into sequester and be the one to return later in the season. I think she could play a mad game if she just had more time.
Rachel: Since I had already started talking about Rachel, I might as well continue. I like Rachel better this season. I wanted Rachel gone every single week last season. I hated seeing her on screen, I hated hearing her laughter. I even crowned her Worst/Most Annoying Reality Show Contestant EVER. And I'm not one of those people who buy that she was edited to look that way. I watched the Live Feeds. I watched After Dark. Obsessively. So I know there were NO editing tricks. I do understand that the house changes people and brings out the worst in you. So I'll give her the benefit of the doubt there. It's so easy to get sidetracked when talking about Rachel. So back to Season 13 Rachel. I do like her more this season. She's toned things down a bit and is coming off much more like I imagine her in real life: sweet, genuine and loyal. BUT … she still throws in too many jabs at people and displays too much of her unhealthy relationship with Brendon. She's also talking A LOT about how she was bullied last season by Ragan, Kristen, Britney, etc., while leaving out the parts  where she started those wars. Especially the fantastic  and epic fight between her and Ragan. OK, I could go on all night about Rachel, so I'll stop.
Brendon: Unlike Rachel, my feelings for Brendon haven't improved. But the reasons why I still don't like him are different. Now I just think he's mean to Rachel and is the driving force behind their VERY unhealthy relationship. For him, she dropped the Vegas, she moved to Los Angeles, she left her job. And he treats her like crap. Sure it looks like he's head over heels for her. When he's not making her cry. Or calling her stupid in some really underhanded way.
Jeff: Ahhh, Mr. America. I wish I saw what America sees, but I don't. I think he's a good Big Brother player, but I don't see the charm that a lot of other people see. In just two weeks, he's said things that could easily be considered homophobic and even racist (if you want to get super politically correct). I also think he's pretty good at making Jordan seem dumber than she is. What is it with these unhealthy relationships? Must be the editing (insert eyeroll).
Jordan: I thought it was a bit unfair for a past winner to be in the game, but I'm over that now. I think Jordan is a fantastic game player. Her social game is impeccable. If we could create a Jordan and Rachel hybrid they'd be unstoppable. I mean, with Jordan's social game and Rachel's physical game … it would be insane. I also gained A LOT of respect for Jordan when she talked to Rachel on the Live Feeds about how she comes off as mean to people. Look for some of that conversation to likely air Wednesday. It's good stuff.
Shelly: I can't even type this one's name without laughing. I think she's hilarious and I'm not even sure why. Maybe it's that husky voice. Or those silly faces. Or the constant stream of cigarette smoke from her mouth. Or the fact that she's flying so far under the radar with her backstabbing it's amazing. Whatever it is, I want to see more of her.
Dominic: At first, I thought he'd be annoying. I'm usually not a fan of the straight pretty boys of Big Brother. But he's really grown on me. I appreciate his immediate game play and he hasn't let up yet. After his PoV win this week, I imagine he'll be the first newbie to win HoH.
Adam: Ugh. Do. Not. Like. I get it: you're a rocker who loves bacon and 90210.
Daniele: I think Daniele might be the best player in the game. I'm going back and forth between her and Jordan. I love Daniele's bluntness and tough love. I'm glad she's got a couple weeks of safety with her golden key. I still can't figure out if her thing with Dominic is game play or a blooming showmance. At any rate, I think she's smart enough to balance a showmance without it effecting her game.
Lawon: When is this guy going to start playing the game? And when is someone going to burn his clothes?
Kalia: Talk, talk, talk, talk, talk, talk, talk, talk. Zzzzzzzzzzz. I wish I had more to say, but she's almost as non-existent as Lawon. I do think she's trying to play the game, but isn't exactly sure how.
HGs most likely to make it to the Final Four: Jordan, Daniele, Dominic, Jeff.
Other thoughts about how the season could play out: I think Jordan could win this show again. Even if she doesn't win, I do think she'll outlast Jeff. I also think, unlike last season, Rachel will outlast Brendon. Even though I think Jordan could win, I'd rather see Daniele take it. As crazy as it now sounds, Shelly stands the chance of breaking Top 5 or even Top 4. I still have a feeling someone will return later. And I still hope it's Cassi. If Cassi returns, she too could make it far.
Much like the show itself, look for my opinions and predictions to change constantly this season. These are just my early thoughts. What are yours?