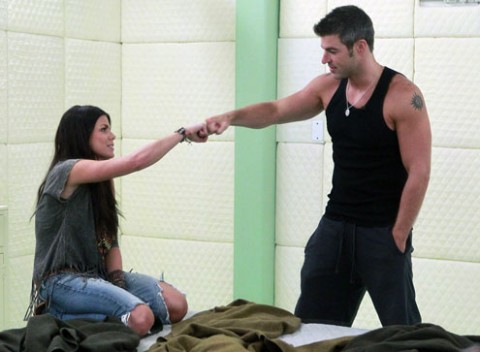 In the most exciting week yet in the Big Brother 13 house, we saw two veteran houseguests exit in a special double eviction episode. Jeff and the vets finally got their revenge on Daniele, sending her packing first. Then the newbies honored their fallen queen (Daniele) by sending Jeff out the door behind her.
So now it's time for me to analyze how the evicted houseguest(s) game(s) went wrong. Which means it's time for you super fans to tell me how stupid I am and how you want me dead and can't believe I'm allowed to write about this show. I think I've been watching too much Rachel. Anyway, let me get on with it.
Daniele
We all know where Daniele's game went wrong. She jumped the gun WAY too early by leaving her alliance with the other veterans and working to get out the one person she knew she could never beat – Jeff. And while she may have acted too early, her reasons for wanting Jeff gone were 100 percent true. America loves Jeff and half the house love(ed) Jeff. I'm pretty sure Adam has a Jeff tattoo somewhere under all that hair. So Daniele's reasons were there, but again, she moved too quickly.
She told Julie during her exit interview that she made the move early on because she got bored. And I believe that had a lot to do with it. She was a strong player sitting back holding a golden key watching everyone else play the game she loves.
Daniele could have made it to the final two (again) had she just waited a couple weeks to make her big move. And in the meantime, maybe Adam could've been sent back to New Jersey to watch the Live Feeds with a box of tissues on hand.
She also could have rebuilt her game had she convinced Brendon and Rachel to work with her (at least for a little while). But we all know Brendon and Rachel are way too paranoid to trust anyone other than each other. So Daniele took her only other option and that was to work with Kalia and Porsche. That worked for about a week or so, but in the end all she accomplished was training Kalia and Porsche to get closer to the prize money.
Jeff
I'm not one of those rabid "Big Jeff" fans, so when I say this, I want no accusations made about me: Jeff's game never really went wrong. He played a pretty solid game and stuck to his guns. But it's obvious the houseguests (minus) Adam just didn't want Jeff and Jordan to win more money or get more airtime from CBS. They've had enough of JeJo and hopefully America will eventually have enough, too. That is after we all award Jeff the fan favorite at the finale and send them our first-borns.
I do think Jeff could have lasted longer had he not been working with Brendon and Rachel. I think there was a pretty easy chance for him and Jordan to re-team with Daniele, which would have put Kalia on his side along with his already-built army of Adam and Shelly. Sure he couldn't trust Daniele beyond the evictions of Brendon and Rachel, but two weeks are better than nothing.
Maybe he just think he played the dignity card a little too much. Sure, America loves a good strong man's man with muscles and Christian values, but winning $500,000 is more important than what this stupid country thinks. Just ask Shelly.
What are your thoughts?