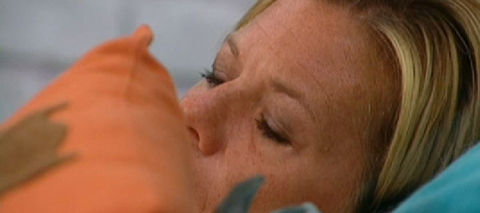 This week's installment of who has the votes to survive on Big Brother 13 is a short one. With only three votes on the table there isn't much divvying up to do, especially when you've got a lightning rod out there like we do now. Let's look at the votes.
Rachel and Jordan control the votes with a majority. Whoever they want out will be going home. This week, no surprise, they want Shelly gone and from the looks of it, they're going to get what they want come Thursday's eviction.
For the past several days Rachel and Jordan have been discussing and reviewing their situation. Neither trust Shelly and are afraid she'll manipulate them again if they give her the chance to stay. The girls feel they have a better chance of working with Adam if he stays in the house. Looks like Adam will survive yet another nomination week. Adam has now been on the chopping block FOUR times.
Shelly has offered Rachel and Jordan everything under the sun. She'll throw the HoH comp. She'll vote however they want. She'll build up their trust and then dash it for little gain! No wait, she didn't mean to say that last one.
So where does that third vote of Kalia's stand? Late last night Kalia visited Rachel and Jordan to tell them she wanted to vote in line with them. Kalia is ready to see Shelly go home just as much as Rachel and Jordan, but by "volunteering" them her vote makes her seem more amenable to the group.
Shelly will be evicted on Thursday by a vote of 3-0. Big Jeff will get a big smile.
What do you think of the HGs' decision? Should they keep Shelly and take her deal or stick with Adam? Considering Shelly greatly outlasted Adam in that skiing endurance competition, and knowing the Final 3 HoH comp has an endurance, I'd definitely want to be facing Adam over Shelly. But then Adam has performed better in regular competitions and there are still several of those before the finish line. Quite the gamble.
Update: Shelly has been working Rachel for votes to stay for the past hour. Flashback to 10:55AM BBT for the full conversation. Shelly is offering her deal after deal, including holding on to her diamond jewelry. Could this be just more of Rachel listening to all options before making up her mind like she did last week with Daniele?
Big Brother Live Feed Flashback time:
August 30, 2011 @ 10:55 AM BBT Cam 1
Uncensored Live Feeds Free 3-Day Trial – Sign-up Now