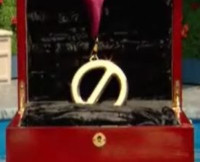 The Power of Veto Ceremony is over on Big Brother 13 and we've got the results. Things went just as we expected considering the Veto holder was pretty vocal on what was going to happen at today's meeting. This shouldn't even be a surprise to the nominees as they received plenty of warning.
Read on for your Big Brother 13 spoilers to find out what happened today at the Veto ceremony.
At today's Power of Veto Ceremony, this week's winner of the Veto, Adam, decided to not use the Veto to change Rachel's nominations.
Either Kalia or Porsche will be evicted and become the next jury member.
Click here to start your Free 3-Day Trial of Big Brother Live Feeds!
There are only two votes this week: Adam's and Jordan's. Kalia's chances don't look very good at this point, but she's got some time left to work them.
What do you think? Which of these two will be evicted on Wednesday's show? Share your thoughts below then watch the fallout on the Live Feeds (get Free Trial).
Be sure to sign-up for the free Big Brother email updates, join us on Facebook, follow us on Twitter, and grab the free Big Brother Toolbar.