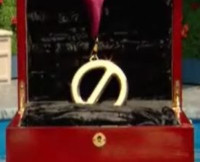 The Power of Veto Ceremony is over in Big Brother 13 and the results are sure to ruffle a few feathers both in the house and in the audience. Things should be pretty interesting in the house and on the Live Feeds for the next few days so stay close by and keep an eye on the house. This should be good!
Read on for your Big Brother 13 spoilers to find out what happened today at the Veto ceremony.
At today's Power of Veto Ceremony, this week's winner of the Veto, Jeff, decided to use the Veto and remove Porsche from the block. Daniele was named as the renom.
Either Daniele or Daniele Kalia will be evicted on Thursday and become the second member of the Big Brother 13 Jury.
Click here to start your Free 3-Day Trial of Big Brother Live Feeds!
There are five potential votes out there for Thursday night. No chance of a tie. Let's see what happens! Don't forget, Thursday is Fast-Forward event!
What do you think? Which of these two will be evicted on Thursday's live show? Share your thoughts below then watch the fallout on the Live Feeds (get Free Trial).
Be sure to sign-up for the free Big Brother email updates, join us on Facebook, follow us on Twitter, and grab the free Big Brother Toolbar.
Update: Really important game talks going on this afternoon on the Live Feeds. Flashback to 2:16PM BBT for Shelly trying to flip Porsche and Adam to keep Daniele. Then another important talk between Adam and Shelly at 2:36PM BBT. Shelly really wants to keep Daniele, but Adam is pushing back hard and is very concerned of the danger. Turn on your Live Feeds and listen in now!