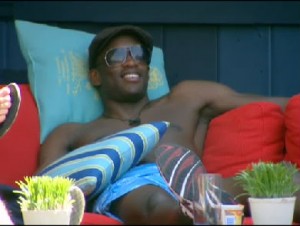 Last night we all watched as
Keith Henderson
was the
first houseguest evicted
from everyone's favorite summer reality show
Big Brother
.   We are conducting the interviews via email which means Keith is sequestered right now and could be coming back into the game at some point in the future.  Check out which newbie he thinks has the best chance of beating the veterans.
Chloe – Was there any strategy in picking Porsche as your partner or did you just think she was hot?
Keith – I thought she was hot. Of course there was strategy, I felt that if we showmanced we could fly under the radar.
Chloe – If you could change one move you made in the game what would it be?
Keith – My strategy. Showmancing would have been the key, to play like I was looking for love.
Chloe – How is being in the house different than what you imagined?
Keith – Its not too different than I had imagined. The only thing was that everyone was so intimidated by the veterans and you can't play with that.
Chloe – In your opinion which newbie has the best chance of beating the veterans and why?
Keith – Adam. If he sticks around, he knows the game and he'll cut someone in a minute if he needs to, even a veteran.
Chloe – How did Dick leaving the house change your game play?
Keith – It made me so happy because it crippled the strongest duo in the cast and it made me able to open up to Dani.
I'm not sure if starting a showmance would ever be considered a good strategy since it puts a big target on your back but it did work for Jeff and Jordan.  I think Keith just wanted to hook up with someone which is perfectly fine so just say that lol.