Here we go! Here's your first look at the Big Brother 13 House! It's kind of a beach theme this year with bright, summer colors and surfboards mounted to the kitchen walls, but it varies around the house. Definitely won't be dull to watch!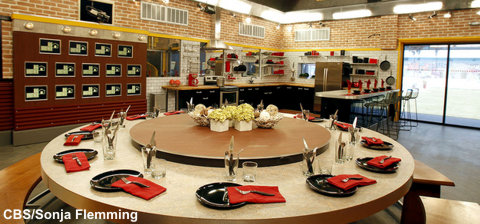 Perhaps most important is the kitchen table and memory wall both featuring space for fourteen houseguests! I love big casts for all the extra opportunities of drama.
Yahoo!TV's Matt Whitfield reports the house has 9 sleeping spots on the first floor, a fortune teller machine in the lounge room (which probably explains the skeleton poster), benches by the HoH door, and a mysterious, locked back bedroom (Have-Nots!).
What do you think of the new house? Compare it to last season's house. I'm excited!
Don't forget, only 9 days left to get the Live Feed Early Bird sale. When Big Brother 13 premieres the cost to watch the live feeds goes up. Get your whole season for $29.99!
Update: We've got even more pictures from the new Big Brother house posted and will continue to add more as they appear over the coming days.
Update 2: Even more pics from CBS! Now we can see the backyard. It looks great!
Update 3: Reader Topher noticed there are 2 different versions of the HoH room. Very interesting. Take a look: HoH Version 1 & HoH Version 2 but which is the final?
Update 3.1: A mysterious tipster "confirms" the orange version of the room was the final HoH room design. Tipster also notes the secret room we haven't seen yet is a "Clue" like library room. Very cool if true!
Update 4: Canada beat us to it! Julie Chen's video tour appeared on ET Canada tonight. Video courtesy of Big Brother Access is below the pics.

click images to enlarge
Dynamic duos from the past? I'm hoping that doesn't mean people who were former HGs. I want some new blood in the game!