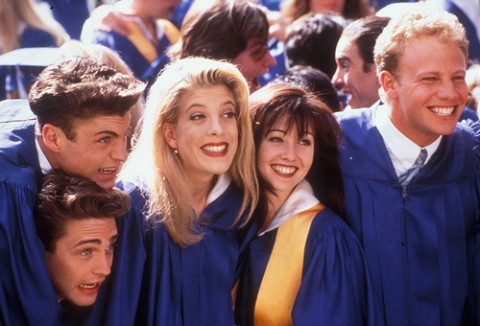 Donna Martin graduates
Sunday on a nail-biting action-packed Big Brother 13, we saw twist after twist, fight after fight, and it all ended with the most shocking news of the season: Rachel Reilly is a really bad driver.
Seriously, people, that's about as exciting as Sunday's episode got. That is unless you're a complete nerd trapped in bad 90s television. Or Adam. Sorry, CBS, Tori Spelling cannot save the rest of this season. I'm only going to say this once (mostly) just to get some fun comments, but I hope the Daniele and Shelly haters are happy because this is the Big Brother they wanted. Wake me when it's over.
OK, on to an actual recap. Sunday's episode picked up in the middle of the HoH competition. I'd normally make a joke here about this being designed for Rachel since she's used to crawling around in slimy gunk on her hands and knees, but that's too easy. Instead, I'll ask a question: Why is it so easy for everyone to make fun of Kalia and Adam for losing competitions when Jordan has been the worst physical competitor of the season? Oh, that's right, it's because she's sweet and as Jeff would say, "cute as a stupid little button."
Rachel wins the challenge and there's no one's arms to jump into, so we'll have to settle for the now-cliche storage room jumping up and down. So Rachel is HoH and since everyone in the house plays for revenge, there should be no surprise who she'll put up.
We get some really creepy footage of Kalia and Adam talking while Kalia is showering. She tries to apologize for voting to evict him last week. He gets the chance to channel Jeff and act like a bad-ass in the diary room for half a second. Ooooh, Adam, Kalia is shaking in her boots. She should be very afraid of you. You've played such a solid game.
Finally we get to see Rachel's third HoH room of the season. And this time, all of her photos are of her and Brendon. Yay! She loves it so much she might just cry. But she doesn't because she only cries when she's not in power.
All the girls have been closed off from the outside world (and closed in with Adam), that they're all panting over Brendon with longer hair and scruff.
Kalia tries to cut a deal with Rachel. She pretends she's been playing a really hard game because she won two HoH quizzes, but Rachel isn't having it. But again, I'm not sure where Rachel gets the idea that Jordan has played a better game than Kalia, but whatever. I'll never understand the creature that is Rachel.
Next we get the montage of all of Rachel's car accidents. Is anyone really surprised she's a horrible driver?
Porsche tries to cut a deal with Rachel next. While it's better than her really sorry attempt to cut a deal with Jeff, it's still one I had to watch twice to decide nothing was even really said.
Adam takes the spotlight next in a montage about his unhealthy obsession with Tori Spelling/Donna Martin. That's followed by Rachel opening Pandora's Box. She gets locked in with Jesse from Big Brother 10, 11, 12 and 13. How original. The rest of the house gets to spend some time with Tori Spelling. Adam says lots of creepy things like "she kissed my duck" and "can I be your baby's midwife?"
After all the Donna Martin excitement, Rachel pretends she doesn't know who she's going to nominate and stares at the photo wall. Then calls everyone to the nomination ceremony and nominates Kalia and Porsche for eviction.
How did the veto competition play out? If you can't wait until Wednesday to find out, we've got the answer here.