Matt Hoffman (BB12) returns with his review of the latest Big Brother episode. You'll find him here at BBN each Thursday & Friday all season. Read Matt's past articles.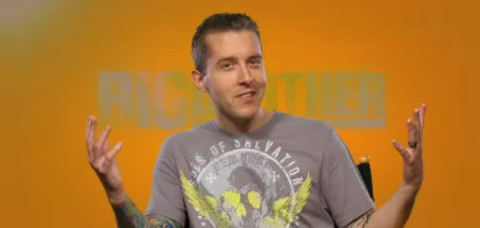 Another eviction night is upon us. Adam is up on the block yet again, this time with Shelly as the victim of his "eternal pawn" game. Adam's strategy? – to "start kissing some veteran butt". Yeah, why start changing things up now?…if it ain't broke, don't fix it.
Jordan and Rachel (the self-dubbed and unflatteringly-named "Jochel") hop into the Big Brother diary room together where Rachel attempts to teach Jordan how to be ultra obnoxious too. Bless her heart, Jordan tries – but she just can't pull it off as effortlessly as our Vegas vixen. In reference to Pandora's Box dictating the events of this week, Porsche tells us in the diary room that a trained monkey could've filled her reign as HoH. I've seen trained monkeys do some pretty amazing things. The question is, could Lawon have pulled off HoH duties this week? I truly believe that, even as ruler of the Big Brother house, he would've somehow gotten himself evicted.
Next up we're treated to what is probably my second favorite segment of the entire season (coming in just narrowly behind Rachel in the bushes). Shelly closes herself off in the purple room for three hours while production screws with her by toying with the fortune teller machine. The fact that both of the veterans are already safe should've been enough of a clue that there's no more twists this week. If Shelly decided she was going to waste her time trying to make inanimate objects come to life, she should've fiddled with Adam before the veto competition. I also can't pass up the opportunity to point out the humor in the fact that no one even came to check on Shelly in that entire three-hour time span! Must've been feeding time in the house.
Just when Shelly is about to give up, the fortune teller machine starts moving around and spits this out…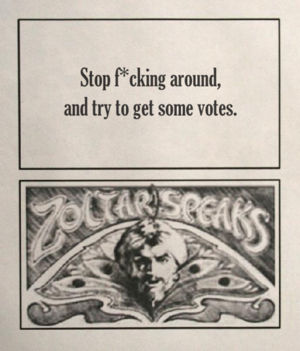 …so Shelly goes outside to talk to Rachel. But it doesn't work out so well, however, since all of the "Brendon" has nearly detoxified from Rachel's system, thus making her a rational, intellectual, and adept player who can see clearly through Shelly's B.S. As a last ditch effort, Shelly offers her precious one-of-a-kind "past, present, and future ring" to Rachel in exchange for safety. In response to this gesture, Rachel says exactly what we're all thinking – "I'm not gonna take your ring, lady! I don't want your stupid ring!" Better luck next time, Frodo.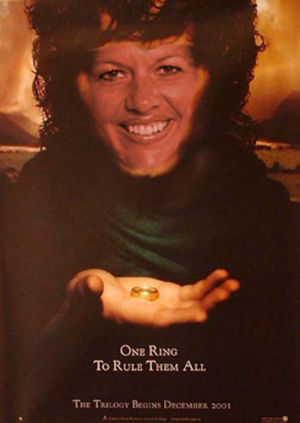 But the last laugh goes to…well, us again. Because even though Shelly thinks she's pulled one over on Rachel (which she most certainly has not) by offering her a ring that was fake, we get to scrape another tally mark up on Shelly's chalkboard of hypocrisy as she lies her way out the door tonight. At least she's finally owning up to her deviousness, and for that I will give her credit. Too little too late, though, sister.
Tonight is another live night, so we get to hear Julie talk with all the houseguests:
JULIE: Jordan – you found yourself partnered with Rachel this week. What's that been like?
JORDAN: Well, Julie – it's pretty much just like being partnered with Jeff. Except with less verbal abuse and a greater risk of disease.
JULIE: Kalia – what was your first thought when you heard that Porsche opened up Pandora's Box?
KALIA: I was mostly worried that the refrigerator would be locked as a punishment.
JULIE: Shelly – what has been the most difficult part of this week?
SHELLY: Without a doubt…You need to make game moves in this house…Without a doubt…You know, hurting Jordan…Without a doubt…Playing the game is different than being outside the house…Without a doubt…hurting hearts…I'm a wife…And a mother…Without a doubt…Yeah, that was the hardest part this week.
[confused looks all around]
JULIE: Oooookay…Adam – you've been the only man in the house for a week now. What's the best part about living with all these women?
ADAM: MORE BACON FOR ADAM! ADAM LIKE BACON! GIRLS NO LIKE BACON! LOTS OF YUMMY BACON FOR ADAM TO EAT!
Julie then takes us to our first glimpse of Jury House. Brendon kicks off the segment by talking about picking oranges, studying, playing one-on-none ping pong, and all the enjoyable things he's been doing by himself. It's not long before Daniele shows up to ruin all of Brendon's lonely fun. And here's a "shockkkkerrrrrr" for you…Daniele complains! This time about being backdoored. Which she wasn't, since she had a fair shot to compete in the veto and save herself. Moments later, Jeff walks through the doors to join them. We get to hear Daniele complain some more and spout her annoying catch phrase "shockkkkerrrrrr" for the seventh time. I wish someone would "shock her". With some jumper cables and a high voltage battery.
The losers all sit around to watch themselves get kicked out of the game. Jeff tries to top Dani's "shockkkkerrrrrr" count with "clown shoe", and I think he comes pretty close. Brendon makes fun of Porsche for saying that not using the veto is "what Daniele would've wanted." Hey, Brendon, you delusional hypocrite – let me take you on a magical journey back in time to roughly a year ago when you made your replacement nomination based solely on a message left in pretzels from your then-girlfriend. And please allow me to just cut off all the people who are itching to make a brilliant comment below about how "bitter" I am and how I "sucked anyway". I assure you that I am absolutely not bitter in the least. Just stating the facts. (but I did suck anyway…touché on that one)
Back on live television, Julie talks to Porsche in the HoH room and then it's time for nomination speeches. Shelly's up first and spends her entire time sucking on the teats of "Jochel" and emphasizing very clearly that she is with them 100% if they vote to keep her. Kalia is clearly dumbfounded at the forthright speech that basically implies that Shelly will be going after her and Porsche if she stays. Keep all of this in mind, as it's relevant to Kalia's stupidity in just a moment. Adam's speech is as useless as he his, but it doesn't matter since no one would ever vote him out anyway. Do you think he knows that? Maybe he's a super-genius and is playing everyone! Or maybe he's just a big dumb oaf. My money's on the latter.
It's time to vote! Remember when I told you about Shelly's speech just a minute ago? (if you don't, please stop reading now…and also, don't breed) Well some little voice in Kalia's head (or maybe a rumbling in her stomach) told her that she should vote to evict Adam! What?! Shelly just got done telling you that there was no way she would be anything other than completely loyal to Jordan and Rachel! Thankfully Rachel and Jordan have some common sense (that's the first and last time you'll ever hear me admit to that, by the way), and they end up voting out Shelly. While Shelly gets set up for her exit interview with Julie and we're "eavesdropping on the houseguests", Adam is walking around growling and grunting. I have nothing witty to say about this other than to point it out in case you missed it, because it's worth going back and checking out. Super weird.
During Shelly's exit interview with Julie, Shelly gets asked what went wrong. When she explains that the reason she's been evicted is because she tried to make a power move turning on Jeff and Jordan, Julie obsesses on the fact that Shelly made the move "so early in the game". I thought I misheard her say that, but then she repeated the same thing two more times. Hey, Chenbot – get with the program. Shelly just turned on Jeff and Jordan last week, and there's less than two weeks left in the game! How long was she supposed to wait to pull off this operation? Finale night? Maybe at the wrap party?
As Shelly heads off to Jury House, the houseguests gear up for the next HoH competition called "Rollin' In The Dough". The rules of the competition are simple. The contestants must dive into the sticky donut glaze, crawl over Kathy from Season 12, grab a donut, and then head back through the glaze and over Kathy to put their donut on a stick. The person with the most donuts after 13-minutes is the new Head of Household. Julie gives the "ready, set, go!", and everyone flies into the pool of donut glaze.
While the competition is going on, Julie comes back to tell us about next week's schedule. On Sunday we get our first "Celebrity Pandora's Box". What Z-list actor is launching a new CBS show that needs promotion?…tune in to find out! Then on Wednesday is a special live eviction episode. And Thursday we get to see part 1 of the final 3-part HoH competition. As tonight's episode ends, we "eavesdrop on the houseguests" to check in on their progress. With the credits rolling we see what appears to be Rachel in the lead, Adam a close second, Jordan riding a distant third, and Kalia on the other side of the glaze pool eating all the donuts.

For more of Matt Hoffman's ramblings follow him on Twitter @HeadOfHoffhold and stop by www.TheGremlinCave.com. Also, be sure to check out Matt's video recaps of the Big Brother season on www.RTVZone.com (@RTVZone).