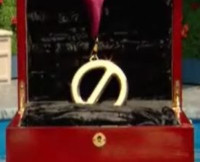 It's Big Brother 13 time again! The show is back tonight to catch us up on the Veto competition, ceremony, and nominations since they ran out of time on Sunday's show. We'll also get to see how Pandora's Box played out in all of that.
If you've got one of our free Big Brother mobile apps then you probably already read how the nominations, Veto competition, and ceremony turned out, but if not, then you can go ahead get all those Big Brother 13 spoilers to get ahead for tonight's show.
Things have continued to evolve in the house and I've been surprised to see the voting HGs even considering keeping who I figured to be a surefire evictee. Could still be a longshot, but it's definitely making things interesting to watch.
Click here & start your Free 3-Day Trial of Big Brother Live Feeds!
Check back in tomorrow morning for another episode review by BB12's Matt Hoffman.
If you haven't been watching the BB13 Live Feeds then you've been missing the real game and there's no way CBS is going to be able to show most of what's been done and said in the house. You can catch it all on Flashback which lets you jump to any day and any time in the season. Get started with the Free Trial right now.
Stay connected to Big Brother with updates by Email, Facebook, & Twitter.