We caught up with Daniele Donato before she made her way to the Big Brother 13 jury house to face Brendon.  Check out how she really feels about Rachel and Dominic and why she wouldn't change anything about her game play.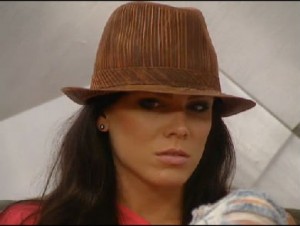 Chloe:  Dani, what are you going to do for a week sequestered with Brendon??
Dani:  I'm just thankful that this was a fast forward week because hopefully it wont be so AWKWARD
Chloe:   Did you have any real feelings for Dominic and would you like to date him once you're out of the jury?
Dani:  I feel so blessed to have been given the opportunity to meet Dominic. I think he is one of the sweetest people I have ever met in my life. I know no matter what happens we will always have a really close relationship.
Chloe:   You said you had no regrets so there is nothing you would do different if given the opportunity?
Dani:  Looking back, it is easy to say that you would change things, but in the moment the only that you have to go off of is your gut and I did.
Chloe:  Rachel called you a bitch in her goodbye message, if she is in the final two will you question her about that before you cast your vote?
Dani:  If she is in the final two, the only person she is going to get a vote from is her fiancé. This is a game about competition, strategy and social game. Rachel is terrible at all three aspects of it.
Chloe:  Did you ever consider teasing Rachel with the fact that you would be alone with her man for a week and use her jealousy as leverage to keep you in the house?
Dani:  I never thought about it, but Porsche did and has. It makes me laugh but it is so ridiculous. She can have her man. Trust me.