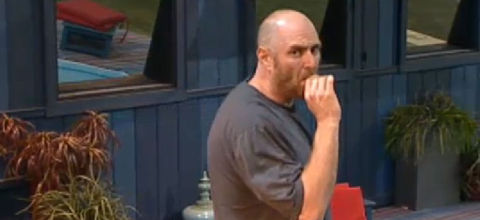 What's a guy to do when he can't get a date to the big dance? Adam Poch is facing that very issue in his last full day in the Big Brother 13 house. The first two rounds are done and he's in a tough spot if he hopes to make it to the Final 2 and have a chance at $500,000. With nothing left to lose, Adam is making his last stand.
He lost Round 1 to Rachel and then he lost Round 2 to Porsche. Both women have told Adam they plan to take the other to the Final 2. Adam will have no option but to sit back and watch the rest of the game play out around him. Flashback to Sunday at 1:47PM BBT (Cam 3) to hear Adam muttering to himself that he lost $500K. He believes if he had made it to the F2 then he would have won it all. After initially rolling over and seemingly accepting his loss, Adam has come up with a plan.
Shortly after the first two rounds were over, Adam privately told Rachel that if he had won the second round he was going to take her to the F2. It sure sounded sincere until he told Porsche the exact same thing. When that didn't work Adam decided to step it up.
Flashback to Sunday at 7:47PM BBT (Cam 3). Adam announces to the cameras (he's alone) that he has "the perfect plan" to get him to the Final 2. His plan is to threaten his vote against the winner of Round 3 if she evicts him. If Rachel wins and sends him to Jury then he'll vote for Porsche and vice versa. He'll tell each of them this just hours before the finale show. Adam is very excited about this plan.
So much for waiting until the last minute. Adam decides to spring his big plan the very next morning when he's alone with Porsche. Flashback to Monday at 11:21AM BBT (Cam 3). Adam is pushing Porsche to take him with her and reminds her that if she doesn't, he'll be the deciding vote (hinting the obvious here: that he won't vote for her). Guess how that goes over.
Porsche is none too pleased with this tactic and tells Rachel at the first opportunity. Flashback to Monday at 12:24PM BBT (Cam 1) to hear her relay the conversation to Rachel. Porsche says she doesn't want to hang out around him anymore. Sounds like this little plan backfired on Adam. Rachel tells Porsche it's stupid of him to say that because they know if they (Porsche & Rachel) don't take each other as promised then they'll lose each other's votes.
Time for Plan C. Flashback to Monday at 8:23PM BBT (Cam 3) to hear Adam seemingly give in and plead for America to vote for him to be America's Favorite. Yikes. That's going to be a longshot for Adam. Our "favorite HG" poll with nearly 30,000 votes has Jeff winning with ~35% of the vote while Adam has about 1%.
Unless I missed it, Adam hasn't given his "take me or lose my vote" speech to Rachel like he did to Porsche. Maybe he's still going to take a swing at his "big plan" or maybe he's resolved to third place where it looks like he'll most likely end up. If it's Rachel and Porsche in the Final 2, take a look at my prediction for how the Jury votes will go down.
Do you think Adam has a chance at the Final 2?
Update: Reader KP pointed out Adam's seemingly sudden change of heart. Flashback to this afternoon at 1:53PM BBT to hear Adam tell Porsche he doesn't want Rachel to get a "F'ing penny." Wow. Something really set him off. Is he messing with her head to get Porsche angry at Rachel or does he mean it? I'll have to go back and see what she could have said to him.
Update 2: I'm not convinced Adam is really mad at Rachel as he claimed. He could be playing off Porsche's frustration last night over Rachel saying Porsche got on the show through her connections with Janelle. Seems more like he's playing mind games.
Update 3: Adam is back to trying to sell his vote to the highest bidder with Porsche promising to "make it worth his while" if he votes for her. Adam also goes back to thinly veiled threats that he "has friends in Jury" hinting that he'll influence votes against her if she doesn't take him. He is allll over the place.