Whoa-Update: Jessie (BB10 & BB11) was back in the house tonight! As part of Britney's Pandora's Box experience the man with the muscles came back! Jump on the live feeds right now to listen in to what's going on.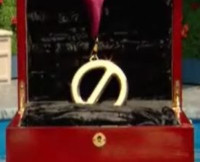 Big Brother 12 is heating up as we enter a new week of backstabbing and fighting as stress levels run high amongst the HGs. After finding out who Britney nominated last night it was time for the Veto competition which gave the nominees their last chance at safety to stay in the game.
Read on to find out who won and what that means for the game this week.
The Week 7 Power of Veto results for Big Brother 12:
Brendon won the Veto Competition.
Brendon won the Veto, but lost all his hair. Enzo is in a penguin costume. Someone, unknown at the moment, won a Hawaiian vacation and someone else won $5K. Britney is crying and furious with Lane and the Boys for not trying to win the Veto and going after prizes. Matt and Ragan are very disappointed.
Update: More punishment news. Brendon and Britney will be hand-cuffed for 24 hours. All of Enzo's clothes save a few pieces were taken from him possibly for the rest the season.
Britney is being strongly pressured to renom Matt and send him out the backdoor but she doesn't really seem up for the idea. We'll have to keep watching!
Jump on the live feeds with the free trial and watch it all live & uncensored.
The players in this week's PoV competition were Britney as HoH, Enzo and Brendon as the nominees, along with Matt, Hayden, and Lane. Ragan sat out.
The Veto ceremony will be held on Monday so we'll soon know whether or not the power will be used. Stay close by and we'll let you know as soon as that happens.
What do you think of the PoV Comp results?
click images to enlarge