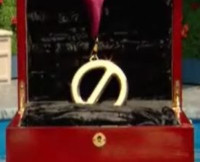 Big Brother 12 presses on through its second week of action in the house and on the live feeds. After finding out who Rachel had nominated last night it was time for the Veto competition today where the nominees could fight for their chance at safety.
Read on to find out who won and what that means for the game this week.
The Week 2 Power of Veto results for Big Brother 12:
Britney has won the Veto Competition!
The players in this week's PoV competition were Rachel as HoH, Monet and Britney as the nominees, along with Brendon, Enzo, and Lane. I'd be willing to guess that 4 of those 6 wouldn't even consider using the PoV if they won, but of course Miss Brit had to go and win.
The Veto ceremony isn't far away so we'll soon know whether or not the power will be used. Stay close by and we'll let you know as soon as that happens.
Who do you think will be the replacement nominee?
Jump on the live feeds and enjoy the drama. Watch it all now live & uncensored. Brendon and Rachel have their big date tonight so don't miss that on the feeds.