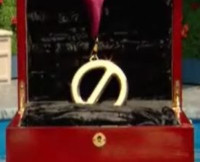 The Power of Veto Ceremony is over in the Big Brother 12 house and arguments are sure to follow with the eviction just days away. Crank up your live feeds (Free Trial and 33% discount is still available) and watch the HGs scramble to save themselves and secure votes. Keep reading to reveal Big Brother Spoilers for what happened today at the Veto Ceremony.
Enzo, the winner of this week's PoV, obviously used the Veto. Lane named Hayden as his replacement nomination. Either Ragan or Hayden will be going to the Big Brother Jury House this Thursday and I'm thinking it's the end for Ragan unless he can convince Britney and she convinces Lane to break the tie in Ragan's favor. That's not as unlikely as you might think at this point.
Aww forget it. Who's ready for Survivor 2010? See you at Survivor Fandom!
If you turn on your live feeds (or try the free trial already) you can listen in and watch as the house reacts and prepares for the eviction. There is so much backstabbing going on right now that it's insane. Everyone is turning on everyone at every chance. This is what makes this phase of the game the best!
What do you think? Which of these two will be evicted on Thursday's live show? Now a different question: Who should be evicted?
Be sure to sign-up for the free Big Brother email updates, register for the Big Brother Forum, join us on Facebook, and grab the free Big Brother Toolbar.