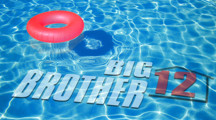 Tonight's Double Eviction live episode cut off and left us with quite the cliffhanger. There was no second HoH competition! I thought we might get an endurance or at least something started by the end of the show. Instead production took a few hours after the show to set up for the comp and let the remaining Final 5 HGs sweat it out. Now Big Brother 12 is back and we know the results. Read on to find out who won and what it means for the game.
The Week 8 HoH Comp results for Big Brother 12:
Lane won the HoH Competition.
Congrats to Lane on finally winning something.
If Lane is true to his remaining Brigade members as he has already said he will be, then Ragan and Britney will be the nominees. Yikes. I'm sure that'll go over well with Britney! Maybe she'll regret that Matt renom.
Jump on the live feeds with the free trial and watch it all live & uncensored.
The nominations should be held on Friday night so we'll soon know who is most in danger of eviction. Stay close by and we'll let you know as soon as that happens.
What do you think of the HoH Comp results?
click images to enlarge