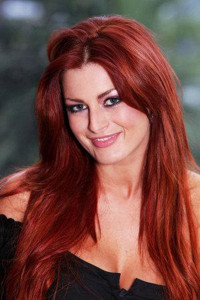 Now that the evicted HGs are sequestered to the jury house, the interviews are being done via email.  I was really hoping to talk to Rachel Reilly on the phone but unfortunately I didn't get that chance.  Here's what she had to say about her time in the
Big Brother 12
house.
AR:  You always said that the men were the real threat, but you sent home two women both times as HoH, why is that?
RR: I sent people home based on strategy. Monet had won the money and I didn't want to make any enemies in the house at that time so she was an easy target. Kristen I maybe should have kept in the game longer. I know she would have turned on me eventually, but keeping her possibly would have kept me around a little longer.
AR: Who has let you down most in the game?
RR:  Ragan or Kathy. I thought we were friends in the beginning.
AR:  Did your showmance cause you to lose focus on the game?
RR:  No – it was great to have someone that I could trust. Brendon was my strongest ally.
AR:  Do you honestly think you and Brendon will stay together outside of the house considering the struggles you went through while in the house?
RR:  Yes, I think we have a strong and bright future. He is getting his PHD in physics and I want to continue my education. We have similar goals and will help each other achieve them.
AR:   Why did you get so upset when Kathy beat you in the POV competition after you basically did the same thing with your "floaters get a life vest" comment after you won HoH? What is the difference?
RR:  My comment was funny. I thought Kathy and I were friends. I let her sleep in my room for a week. Then she made fun of me when I was at my lowest low. It hurt.
AR:  Do you regret voting out Kristen and putting her and Hayden in the same situation Matt put you and Brendon in?
RR:  It is hard to play the Big Brother what if game.
AR:   Now that you're in the jury, who would you like to see sitting with Brendon in the final 2?
RR:  I think Enzo. He needs to step up and start competing a little more. But, he is funny.
AR:   Who from this cast do you think is worthy to be on an all star season?
RR:   Me!
So there you have it.  What do you think about Rachel's answers?  Do you think she is the only one from this season worthy to be on the next Big Brother All-Stars?