And they're off! Under the cover of darkness 13 strangers entered the Big Brother house last night and began their journey toward a half million dollars! They might be strangers now, but by the time we see them on Thursday night's Big Brother 12 premiere we'll know them as our BB12 Houseguests!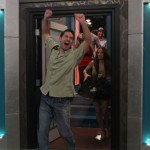 Andrew was the first to enter the house (and he looks pretty darn proud about it) with Annie, Kathy, and Enzo not far behind. You'll recall from previous seasons that the HGs are sent inside in small groups with the earlier the better as the best beds are quickly taken. We'll be able to see all of these events on Thursday's show but other than a few leaks here and there I'm not expecting too much more info on what the HGs are up to until then. Are you excited?!
While we wait for things to get started you can watch all of the HGs interviews using your Big Brother Live Feed free trial in the Big Brother section of SuperPass. Chelsia (BB9) did a pretty awesome job hosting these interviews so they're definitely worth checking out once you get signed up and logged in.
There are only 4 days left to get the sale price on the live feeds! After Wednesday night the price will jump back up for the exact same feeds. Plus, if we all band together and get our feeds from the links on this site then Janelle (BB6 & BB7) along with Chelsia (BB9) will stop by our site and have a free webchat with everyone. No kidding, I'm totally serious. We won last year so let's do it again this season! Big, big thanks to everyone who is helping us win. You guys rock!
Update: A new Big Brother 12 picture has been released from within the house! Looks like the new HGs are getting cozy by the poolside. Take a look for yourself!
Update 2: This might be the first Big Brother spoiler of the season. Speculation on who is the first HoH.