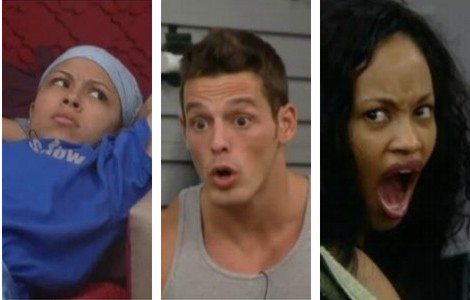 Full disclosure up front: I'm on Team Jeff & Jordan. I wasn't sorry to see Ronnie go and if Natalie jumped on Jessie's back as he walked out the door next week I couldn't be happier. With that out of the way, let me break down for you why Chima winning HoH last night was the best case scenario for Team Jeff.
My initial reaction was "oh @#$!" when Chima won, but a few minutes later I realized I could not have cherry picked a better Head of Household for this week if the goal was to eliminate Jessie or Natalie. If Jeff had won the HoH comp then he'd have doubled up his power with no advantage and the big disadvantage that he couldn't compete the following week. Whether he threw the question or not (I'm leaning towards not considering his facial reaction) this was a good move.
Chima will likely nominate Russell and Michele as she's still pissed at Russell and she'll pointlessly seek revenge for Ronnie. From what she's said so far on the live feeds I think there's a good chance of this. We'll know by the end of the night.
After nominations will be the Power of Veto competition. If Chima nominates Russell and Michele then there remain only 3 spots left for her alliance to join in out of the 6 available HGs. Jessie and Natalie will have a 1 in 3 chance of having at least one of them selected to play. Why does this matter? Because only the HoH and PoV winners are immune from the Coup D'Etat. If Chima really wanted to play to protect her team she'd nominate Jessie, against his will, guaranteeing him a spot in the PoV competition. Big risks there as well, of course. Either way, there's a good chance that Chima will be the only member of her alliance competing for the PoV and if she wins it, then all the better.
Assuming neither Jessie nor Natalie obtain the Power of Veto medallion of this weekend then the power move will be up to Jeff next Thursday night to use the Coup D'Etat. This is where Chima being HoH becomes important again. The HoH can't vote and therefore won't have any direct influence over who walks out the door next week. If Jeff uses the power and replaces Chima's nominees with Jessie and Natalie then their little 3-person alliance will consist of the only 3 HGs not voting this week. Chima has won the honor of being the most debilitated Head of Household for all of Big Brother 11.
We know that this week the true power resides with Jeff and the Coup D'Etat. This is going to be especially painful to Chima since her response to Julie Chen's "which do you value more: the HoH luxuries or the HoH power?" was for the HoH power. She'll definitely take this as a personal slap in the face. Bonus!
Are you glad that Jeff won the Coup D'Etat? Who do you want to see him nominate this week and most importantly, who do you want evicted?
Be sure to sign-up for the free Big Brother email updates, register for the Big Brother Forum, follow us on Twitter, and grab the free Big Brother Toolbar.