The Power of Veto Competition is over in the Big Brother 11 house. To find out who won click "continue reading" for the spoilers…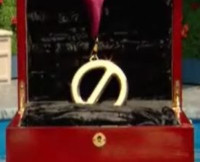 Kevin is the winner in this week's Big Brother 11 Veto competition!
The players in today's Power of Veto competition were Chima, Russell, Lydia, Jeff, Natalie, and Kevin.
Kevin is discussing now with Chima that he won't use the Veto to save Lydia. Lydia, who was nominated by Chima, says she is okay with staying on the block as long as they have the votes to evict Russell. Chima, Kevin, and Lydia all agree that they think Jeff has the Coup D'Etat power so they discuss options to flush out the power by replacement nominating Jeff.
What do you think? Should Kevin use the Veto? Who would you save?
You can also check in on the house and see what's happening right now on the live feeds and try it for free and get the 13% discount before it expires.