The Power of Veto Ceremony is over in the Big Brother 11 house. To find out who won click "continue reading" for the spoilers…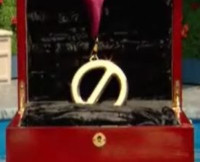 Michele, one of this week's nominees, is the winner in this week's Big Brother 11 PoV competition. She will assuredly use the Veto, forcing Jessie to find a replacement. Will Casey be backdoored as the plans seems to be? Let's hope not.
Michele faced off against Casey, Jeff, Chima, Jordan, and Jessie in today's Power of Veto competition
What do you think? Who will Jessie nominate to replace Michele?
You can also check in on the house and see what's happening right now on the live feeds and try it for free and get the 13% discount before it expires.