Update: The hamsters are up and about in the house. Jump on the live feeds and see what's going on in the house right now post-PoV. May the backstabbing continue!
The first Big Brother 11 Power of Veto competition is over and the results could change the current nominations by Jessie. Click "continue reading" to find out who won and what may happen…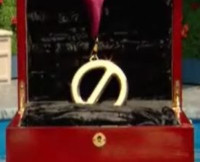 The players in last night's PoV competition were Jessie as HoH, Chima and Lydia as the nominees, along with Russell, Jeff, and Natalie.
The winner of the first BB11 competition was… Russell.
It doesn't seem likely that he'll use the PoV so early in the game, nearly no one does that for someone else. This could spell doom for Lydia which could spell more evil-eye looks from me at Jessie.
Jump on the live feeds and enjoy the drama as Chima and Lydia battle for survival. Laura is already trying to ditch her clique and form a new clan. Oh the humanity. Watch it all right now live and uncensored.
You can read more about what's going on post-PoV in the Diary Room with Janet's take on the early emergence of the "Good vs. Evil" battle taking form.
Be sure to sign-up for the free Big Brother email updates, register for the Big Brother Forum, follow us on Twitter, and grab the free Big Brother Toolbar.
Source: Small Screen Scoop