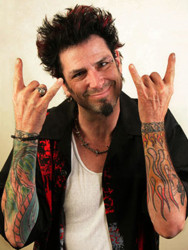 Big Brother fans have something new and awesome to look forward to this summer with Big Brother 11. BBDish has just shared the news that BB8 champion Evel Dick and BB6 & BB7 dominator Janelle will be joining forces for a weekly look at what's going on in the BB house:
I [Evel Dick] will also be doing a weekly webcast with Janelle to fill the void left by the Cancellation of Housecalls.

It will be a call in show that will talk about the feeds and anything and everything else going on in the house and being talked about on the internet.

I will be in studio while Janelle will be in NYC, but will be as good as sitting next to me co-hosting the show (well, as good as for you people, but I am getting jipped.)

We will also be doing a "He said, She said" type blog or column.
If I had to pick 2 of the top players from Big Brother history to become BB11 pundits then it'd be Evel DIck and Janelle. This should be a real treat and hopefully something that CBS will endorse so it can have a bigger platform.
Speaking of "Real," the fun with Evel doesn't stop there. ED has informed us that he'll be back on the RealPlayer Superpass live feeds so subscribers can catch his weekly webcast just like last year. As if you needed anymore encouragement to sign up for the live feeds and get the entire Big Brother 11 experience.
Big Brother is almost here! Register now for the Big Brother Forum, sign-up for the free Big Brother updates, and start following us on Twitter so you never miss a BB11 event all summer long.