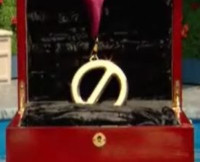 The Power of Veto competition is taking place right now in the Big Brother 10 house. Everyone but Ollie was selected to play, so he's the host. Dan has expressed interest in making sure the Veto is used so he can save Memphis and then go against his terrible deal with Ollie.
Update: The feeds are back. Dan and Memphis are celebrating. Could be good news. Sounds like Memphis won.
Winner of Week 7 PoV is: Memphis!
Watch the house explode! Michelle is furious and Ollie is scared.
Memphis and Dan are discussing how he can safely use it and not go against Ollie's deal. Memphis doesn't think there is a safe way and that he'll just have to flat out break the deal. Dan says he has no intention of holding up the deal for part #3 (Ollie gets to pick the PoV replacement nominee). Dan says he did #1 and #2 to make Ollie feel safe. Woohoo! Excitement in the Big Brother 10 house!
D&M are already discussing the next HoH in terms of Jerry and Ollie still being there. Looks like Michelle should start packing her bags.
The Power of Veto ceremony will take place in the next few days so watch it all live and uncensored ($2 off & Free Trial) as the HGs struggle to dodge eviction.
Get Big Brother 10 spoilers for the PoV ceremony with the free Big Brother updates. Click here to sign-up for the free updates and never miss a thing.