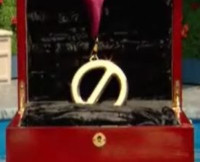 This week's
Big Brother 10
Power of Veto
ceremony is over and the results are in!
Dan, the winner of this week's PoV, decided not to use the veto. Not a big surprise and a smart move if he wants to keep a low profile much longer.
So now it is official, either April or Jerry will head to the jury house on Thursday to join Libra in Evictionland. Who do you want to see go and why?
Get Big Brother 10 spoilers with the free Big Brother updates. Click here to sign-up for the free updates and never miss a thing.
Sex, Lies, and Video Feeds: Watch it all live & uncensored 24/7 – Free Trial!