Last night was intensely volatile in the Big Brother 10 house. Following a surprise late night Power of Veto competition things really heated up.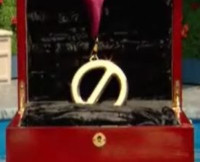 First the important game news: Jessie and Memphis had been nominated by the new HoH, April, so these two were gunning for the PoV. Joining them in the competition were: Jerry, Michelle, and Libra. Despite having everyone in their alliance (Michelle, Jessie, and Memphis), they were not able to pull off the win.
Winner of Week 4's PoV is: Jerry.
Don't expect to see Jerry use the Veto as he'd have little to gain. Better to buckle down and let the storm pass on this one, Marine.
Now back to the flash fire fighting. Pretty much everyone in the house broke out into a massive shouting match that lasted most the night. It was a lot of infighting amongst April's alliance with Libra and Keesha (Ollie stayed safely to the side for the most part). This internal struggle was greatly enhanced by Jessie who kept himself busy by pouring gas over the whole mix. Pretty wild stuff.
In the end things finally calmed down but I'd expect the scars to last from this one. Libra was upset that April was doubting her. Keesha was sick of April's crap. April was letting her new found power take over. Ollie calmed her with guidance to not play Big Brother with emotions. Smart guy!
The Power of Veto ceremony should take place this weekend so watch it all live and uncensored as Jessie and Memphis continue to fan the flames in hopes of diverting attention and eviction. Sign-up now and save with the discounted feeds ($2 off the monthly rate)!
Get Big Brother 10 spoilers for the PoV ceremony with the free Big Brother updates. Click here to sign-up for the free updates and never miss a thing.