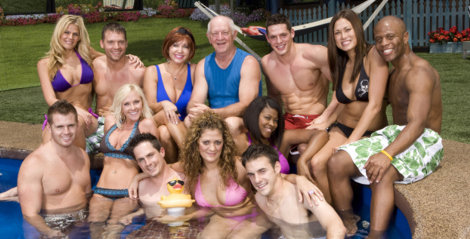 With just two days to go until the premiere of Big Brother 10 I think it's important to get everyone on the same page with a "what do we know so far" review of rumors which have been, so far, widely accepted as fact.
First up, there are 13 houseguests this year (unlike last year's 14) and for the first time since the third season, no one knows anyone else in the group. Phew. Undoubtedly there will be twists along the way, but at least for Big Brother 10 it won't involve unknown relations or any of that nonsense.
Update: Allison Grodner confirmed to Julie Chen this morning on The Early Show that there would be no twists in Big Brother 10, just "back to the basics". Awesome! You spoke, they listened.
Next, the houseguests entered the BB10 house on Tuesday night. Before they went in everyone had to make a HoH selection based purely on first impressions. That HoH selection was… Jerry, the 75 year old great-grandfather.
The rumor is that everyone loves Jerry, because how can you not love a sweet old man? He's the grandfather figure of the bunch and this should help him stay alive (no pun intended) awhile longer. However, it seems he's already showing weakness by suggesting the names should be drawn from a hat, rather than by his decision making. Tsk, tsk.
Lastly, the uncensored feeds will go live on Sunday night (July 13th) after the season premiere of Big Brother 10. That means this is our last chance to get the "early bird" discount. Go ahead and sign up now for the live feeds to save 13% ($2) off the monthly rate before the deal ends on Sunday.
So on Sunday night we'll see the houseguests enter the house, make their alignments, and prepare for a full on battle to walk away with the half million dollar prize. Our first eviction will air on Wednesday, so keep checking back here at Big Brother Network for the spoilers on the nominations and Power of Veto.
Sign up for the free Big Brother updates and you'll get an email with the latest Big Brother 10 spoilers, news, and updates as soon as it happens. Click here to sign-up for updates.