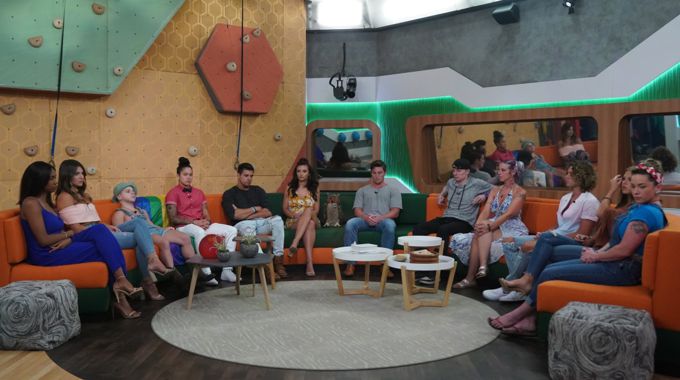 After the conclusion of another fantastic week of Big Brother 20 we turned again to Executive Producer Allison Grodner with our questions on the season. What could she tells us about this surprise twist with the "Hacker Comp," would the Have-Nots ever again be more than a footnote, and what oh what would become of my much beloved Double Eviction episode now that Kaitlyn had failed her Bonus Life challenge? Lucky for us, Grodner delivered a great confirmation.
Big Brother Network: Hacker Comp twist has arrived! What can you tell us about this new twist for the season that's already got the HGs in a panic?
Allison Grodner: This twist is unlike anything we have done before both in the scope of the power the winner will have and in the style and game play of the competition itself. We are very excited for everyone to see it play out starting in this Sunday's episode. The Hacker will secretly have their hand in critical game changing decisions over the course of one week. In a split house this could significantly shake things up.
BBN: Have-Nots has become a round of volunteering in many weeks instead of being more of a punishment or strategic decision by the HOH. Has there been any consideration of bringing back the Have-Not comps or some new way of assigning them instead of volunteers?
Grodner: I think the punishment of only eating slop, taking cold showers, and sleeping in horribly uncomfortable beds is pretty bad whether or not you are assigned or you volunteer. There is certainly more drama initially that comes from people being assigned to this fate, but we like seeing how the houseguests handle this punishment among themselves week to week and how it changes their ability to cope in the house. Also, we have so much going on with the game itself, that it is actually a relief to not have to tell the story of how they became Have Nots in the edit.
BBN: With Kaitlyn losing the Bonus Life challenge has the opportunity for a Double Eviction been taken off the table or is there a plan so we could still see what's usually a big event in the season?
Grodner: There is always at least one double eviction a summer.
BBN: Thank you!
Hooray! Double Eviction nights are so messy but one of the very few times a season where we're genuinely surprised by the turn of events. With the Feeds revealing every direction sign of the summer it's hard not to see the next move coming, but a jam packed live hour event with HGs pulling off an exciting night can't be missed. I'm thrilled to hear it's back again this summer.
After Kaitlyn failed that challenge the numbers of HGs were off to give us an organic Double Eviction, but if it's coming back anyway then that means there's something else coming up to increase the head count. Reset button? Jury Battle Back? We won't know for awhile, but it's bound to happen now.
But jumping to the HNs topic, if they don't even want to discuss it in the episodes then is there really much reason to continue the tradition? Grodner might cite an interest in their behavior on Slop, but my theory is the cost savings of putting 1/4 of the house on oats keeps this one alive.
We'll see more about this Hacker Comp in Sunday's episode, but Grodner is right about its threat in a split house. Until these latest Veto spoilers it really did look like that eliminated-vote element would tip the entire week to one side. Mighty powerful stuff right there.
What's your reaction to this week's interview with Big Brother's Executive Producer? Share your thoughts below!