Well, we FINALLY made it to the end of a long long long Big Brother season. Between BB18 & BBOTT – we have spent almost 6 months watching, analyzing, screaming, mean tweeting, etc… and tonight the winner of Big Brother Over The Top will be crowned.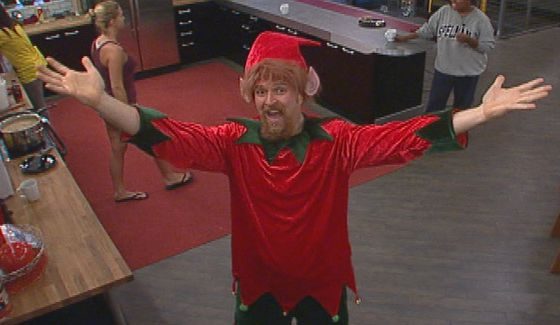 This season was a "gift" for the superfans – as we got to see a lot more than we do of the CBS show. Most of it was good – the live move in, live comps, live DRs, very few "cut to fishes." The cast was full of unique people instead of the clones of other people from seasons past. That does not mean it was all good however.
America had a lot of power this season, and of course whenever there are votes by the public, there will be the conspiracy theorists questioning the actual votes. I think I speak for all of us when I say THANK YOU CBS for more BB than in the past, but please tweak this for next year (if they do it again!).
13 people walked into the house the first day – and 3 remain. Along the way 10 people's chances for a quarter million dollars were squashed – so let's take a look back – and see how everyone did this season:
Cornbread – 4 strips Tofu – Cornbread was obviously not a fan of the show before going in. The first week, he relied way too much on Monte and never really tried to work with anyone or get to know them for that matter. He spoke a little too much and that plus the fact that he "infected" Jason in the first HoH made him the first Americas Nominee. He also was the first to be booted by both America & his fellow Houseguests. he did leave his mark as he said "F**K Y'ALL" on his way out the door. Setting the tone for a very VERY bitter season.
Monte Massongill – 2 strips Tofu – Monte won the first HoH & you gotta give him credit for targeting Jason. He thought he had the support of the rest of the house – but we soon found out he was wrong. He did get a little too much of an ego or as it's called in Big Brother – HoHitis! The following week he was America's nom, and was unable to win the Veto to save himself, and the pattern of America's nominee going home was continued.
Shane Chapman – 3 strips Tofu – Shane really was a fish out of water in the game. On any other season, he may have had a couple other bro's to align with. Instead he had Cornbread, Monte, and Scott early on. Then he decided to stop playing the game, and start playing the girl. Just like Season 14 – we had a Shane / Danielle showmance. He conveniently won a golf themed veto week 2 to save himself, but the following week found himself on the block as a renom – and he broke the trend of America's Nom going home by being evicted. This is the week that the house (Scott as HoH) could have gotten Jason out easily – but… more on that later.
Neeley Jackson – 5 strips Tofu – Neely came into the house and lied about her age, that is never a good thing. I was very disappointed in her game – in fact most of the time I forgot she was even there. She just sat outside wrapped in a blanket and brought nothing to the show… until she exploded on Scott. Despite one of her allies being HoH – she was nominated by America (another trend we saw early) – and then gave an embarrassing speech before being evicted.
Scott Dennis – 1 strip Tofu – Scott was awkward, cringeworthy at times with his camera talking, but overall very entertaining whether we were laughing with him or laughing at him. He took a verbal beating several times with ease. I guess being a debt collector, he is used to it. Scott was very stragic in his moves, not personal. When Kryssie went off on him he had the line "we have to send people home each week, this is what we signed up for."
Tormenting Danielle was not smart but it helped get Scott's allies 1 step closer. He was too trusting of Jason his HoH week, and had the best opportunity to get him out of the house – but since he was trying to play too hard – this came back to bite him. Scott was the 4th of the first 5 America's noms to go home.
Alex Willett – 1 strip Bacon – Alex was the glue of the Ball Smashers – being the biggest superfan of in the house she had the most knowledge of the game besides Jason – and she made the most of her opportunity to play. She did try to work with the other side, but by that time, the house was clearly divided and they played her instead of playing with her. Still, Alex tutored her sister Morgan & Shelby on how to play the game, and it helped get them further. Once again, she was America's nominee, and she went home!
Whitney Hogg – 1 strip Tofu – when Whitney came in, she was way too nice. I was surprised by her teaming up with the Ball Smashers early – she seemed like she was more like the misfits, and eventually migrated over to that side when she feared (correctly) that she was expendable to her side. But that really put her in a bad spot – as she was at the bottom of both alliances – and her "celebratory dinner" comment was one for the ages. She did the right thing to flip sides – but did it at the wrong time, and ended up being a casualty during the double eviction.
Danielle Lickey – 2 strips Bacon – Danielle had been dreaming of playing Big Brother for since she was a child and she came in playing hard right from the start. She found herself on the block a few times early – and lucked out week 3 when Scott had to break the tie and sent Shane home instead of her. She still worked with her allies who just tried to vote her out – and built back those bridges.
Danielle was never floating her way through the game, always playing hard – and could have made a huge move by getting Justin out during her 2nd HoH in the Double Eviction – that would have probably been better for her game – and the following week Justin did not pass on the opportunity to vote her out.
Shelby Stockton – 4 strips Bacon – YES – I know – I am biased because Shelby was my favorite player this season, but she really was sassy, funny, made all those odd facial expressions, played the role of mean girl very well. She played down how smart she really was & convinced the rest of the house she was just a dumb waitress. Her Live DRs were the best of the season – as she used that opportunity to let us know what she was really thinking, instead of trying to say what she thought we wanted to hear.
Shelby became a comp beast near the end of the game and secured her safety along with Morgan's – but when Morgan was HoH – she could not win that corn maze Veto – or we may have seen her in the final 3.
The season's final rankings continue on the next page…