Wow, usually the Big Brother off season feels like months – but this time it feels like a week… wait, it was a week ago today we saw Nicole walk away with the half million – but now we are back with he first ever fall edition of Big Brother. This is not Big Brother 19 however – this is Big Brother Over the Top – and can only be seen on the live feeds.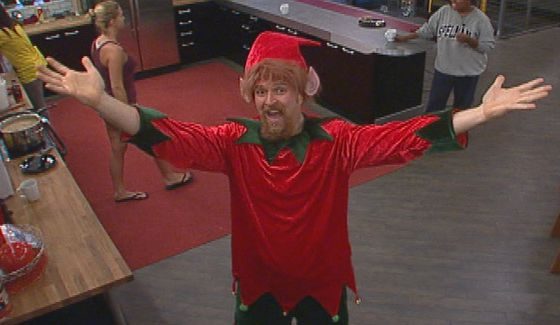 I for one am really eager to see how the new rules / format play out for BBOTT. I am thinking this is kinda like the minor leagues – where they will try out some new stuff and if it works, they may bring some of these changes to the CBS show.
Let's face it – the game has been getting a little stale after 18 seasons. Too much safe playing, too many people playing just to get to jury to earn a paycheck for the summer, and very few actual blindsides & "big game moves." So fire up your feeds and watch the new season kick off tonight!
I was also hoping for a more diverse cast for Over The Top, but this season looks just like the recent seasons. Only 1 HG over 40, lot's of pretty people, lots of recruits, and a couple superfans thrown in there. How the new rules will impact the gameplay is still exciting however – and in just 10 weeks, WE the fans will crown a winner – BUT FIRST, let's see who walks into the house with Bacon or Tofu in their bags.
Kryssie Ridolfi – 5 strips of Bacon – yes, I may be a little biased because she is a rocker chick – but from what we know about her already, she is a sassy gal! She has the most potential of all of them for making great feeds for her outspoken nature – and she is a weightlifter, so she may surprise the HG's & us alike by doing well in challenges. Even though she is a recruit – this is the exact type of HG we all want. She could ruffle feathers if she cannot tone down her attitude early – but I expect her new roommates to enjoy her, until they piss her off, then watch out!
Scott Dennis – 4 strips of Bacon – it will be hard to not refer to him as Steve this season, as I see a lot of similarities between him and BB17 winner Steve Moses. A quirky superfan who will just be happy to be there at first, but he is also a huge strategist and will do what he needs to do to get further, whether or not it may not seem to us as the "right thing to do." He may seem harmless to most of them, and that will work to his advantage. He will also know when to stay out of drama, and watch other people blow up their games. Potential to go really far – and who knows, he may walk away with the prize like Steve did.
Alex Willett – 3 strips of Bacon – one half of the sister duo, Alex is a superfan, a live feeder, basically one of us. I am hoping for some good things from her, as she knows this season is online only – and will try to give us a good show. Her game will be severely effected if it comes out that her & Morgan are sisters, but we just saw the Paq brothers win BBCAN4, and Liz & Julia both get to Final 6 so who knows.
Danielle Lickey – 2 strips of Bacon – at 23 she is already set in a career as a teacher, and a mother, so she is probably more mature than most other people her age. She is also a super fan, but not sure if she understands the live feeds and playing up to us. She says she is super competitive and wants to team up with a couple other people. I just hope she backs all this up. Has potential to go far.
Cornbread – 1 strip of Bacon – one of my favorite dishes is Bacon Jalapeno Cornbread – so that is why he gets 1 strip of bacon, however I am not expecting much out of him this season. The token "old guy" seems cheery & jolly enough to make friends, but let's face it – Big Brother always turns into High School – and he could find himself in the off beat clique. He may be able to go far if the viewers fall in love with him. But that will be his only chance of survival.
Whitney Hogg – 1 strip of Bacon – cmon – how do I not give someone with the last name Hogg bacon??? Another of the superfans, she will think she knows how to play the game, but will soon find out this is not the Big Brother she grew up on, and not sure how well she will be able to adapt to the new game. Then again, she does seem like a loyal person who can get into a tight alliance early and go pretty far.
Rankings continue with the backhalf on the next page…