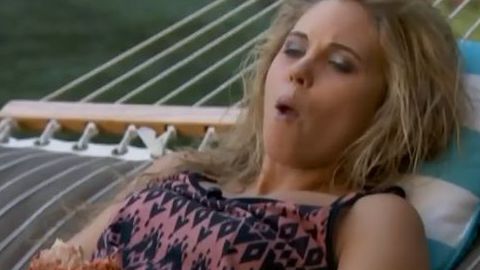 While Aaryn Gries continues to deny her racist behavior inside the Big Brother 15 house her family outside of it is taking steps to "spin" her deplorable personality.
The LA Times reports Aaryn's mother has hired a publicist to stymie the damage she continues to create on a regular basis. Aaryn doesn't know it, but she has lost her contract with her Texas based modeling agency, another contract as a covergirl, and students at her school have pushed to have her ejected.
But when she exits the house, she will apparently get some help with "spin control" to deal with the potenial public fallout from her controversial comments.

Sources for the series said the mother of Gries, who lives in San Angelo, Texas, has already hired a publicist for the 22-year-old college student, making Gries perhaps the first contestant in "Big Brother" history to get representation while still living in the house.
Of course if you ask Aaryn, she'd probably tell you that's "most obnoxious, annoying thing she's ever heard" because she truly seems to believe she hasn't done a thing.
I thought read elsewhere that Aaryn's father refused to comment except to say she'd have to speak for herself, so there may be some division in the Gries household on how to handle Aaryn's general failure in joining society.
Do you think there's any hope of redemption for Aaryn after her well-documented and repeated behavior in Big Brother 15? Or should they consider a priest instead?
Source: LA Times via Big Brother Source