Contest Winners: Dan's BB10 "TAKEN" T-Shirt
|
September 18, 2008 at 3:41 PM EDT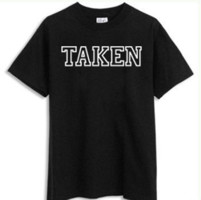 Thanks to everyone who entered the "TAKEN" t-shirt giveaway. After wading through the hundreds of entries two individuals were selected to receive the prizes. Congratulations to Les R. and Alicia C. They'll each be receiving a "TAKEN" t-shirt just like the one worn by Big Brother 10's winner, Dan.
Thanks again to everyone who entered and thanks to all of you for being readers here at Big Brother Network!
SHARE YOUR THOUGHTS! LEAVE A COMMENT NOW:
Commenting Rules:
Keep the conversation civil and on topic. If your comment does not add to the conversation or is insulting to others, it will be removed. Debate intelligently. No ALL-CAPS.