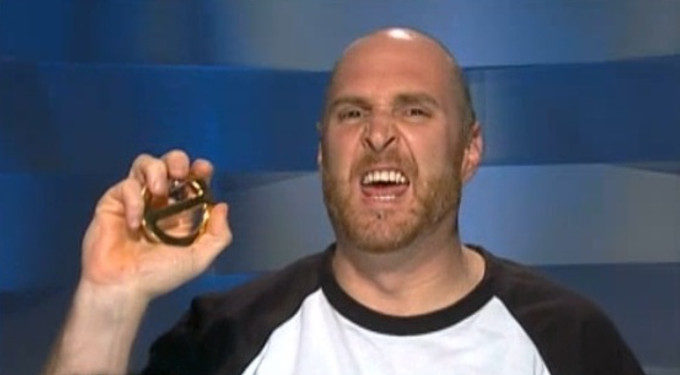 Week 1 in the Big Brother House has been a major roller coaster so far & we are crashing down to the first official eviction tonight! One HG is already gone… for now – and another will join them, but also, for how long? And will an online petition lead to another HG leaving??? These questions will be answered soon, #butfirst – let's take a look at how each player did this week.
Nicole Anthony – 5 strips of Bacon – Even though Nicole is in the dark with most of what is going on around her – she is staying relatively calm (with a minor homesick bout notwithstanding). She seems very level headed and is not swayed by others easily. She is quietly becoming the leader of the Others/Outsiders/whatever you want to call anyone not in an alliance with Christie. But the best part of that is she is not the obvious leader. I still have high hopes for this secret assassin.
Sam Smith – 4 strips of Bacon – yes he is loud in the diary room, yes there is a lot going on that he does not know about, and yes – he did win this week's Veto and did the noble thing to take down Cliff. He takes information that he stumbles upon and does a great job keeping it under his hat. His game moving forward will require him to listen more than speak – which may be tough for him, but so far he's doing a great job laying low.
Christie Murphy – 3 strips of Bacon – some people think that Week 1 HoH is a curse because it forces you to start showing your gameplan & strategy. Christie has done a great job – nominating 3 people but not coming off too strong. Regardless of who goes home, she has smoothed things over with both nominees, so there would be no hard feelings. She listened to her gut (mostly) and did not put up Kemi as the renom. Sure most people outside of the house would have LOVED to see her put up Jack – but her safer pick of Ovi should keep her safe with her alliance(s) for a couple of weeks.
Isabella Wang – 3 strips of Bacon – If there is anyone that is in multiple alliances with everyone at this point in the game, it's Isabella. She has all sorts of alliances and deals and despite being in the early stages of a Showmance with Nick – this will probably put a bigger target on him than her. The whole idea of getting out Kemi by Christie and the rest of the Six Shooters / Gr8ful was to make sure that Kemi did not pull her away from them. While that plan never came to fruition, I do not see anyone turning on Isabella just yet. I originally was going to give her 4 strips of bacon, however – when she outed the Black Widows to Nick – it showed that once again loose lips sink ships. Nick has not done much with that info (see his recap for more).
Cliff Hogg – 2 strips of Bacon (but give one to Sam) – well, Cliff was able to win the Banishment competition and avoid the Glenn curse. However, he found himself on the block week 1 and could have had the Steve curse. But then along came Sam and pulled him off the block and now we should see Cliff around for a while. Going into the house he knew it was so important to stay week 1 so people could get to know him and hopefully not see him as a threat. CHECK! Now it's to be seen if he can turn his game around down the road and become the strategic mastermind he wants to be.
Tommy Bracco – 2 strips of Bacon – how many dance sessions has Tommy led up to this point? Answer – enough to keep him well-liked among the rest of his fellow HGs. Some of us feared he would come in too hot – but the early twist that he was a part of (secret previous relationship with Christie) has probably helped keep him low-key & more aware of his personal/social game. He could end up being a very physical threat down the road – so aligning with the other strong players will help keep him out of the line of fire.
Jessica Milagros – 1 strip of Bacon – after being seen as a big threat day 1 when she tried to win Camp Director – Jessica ended up being banished – but won her way back in. From there, Jessica has kind of blended back in with the rest of the house. She is still on the radar for some, as time goes on, other targets will emerge and Jessica should be able to navigate her way through the muck. That is unless she wins an HoH soon and decides to shake things up – which could end up damaging her game.
Nick Maccarone – 1 strip of Bacon – if not for Jackson & Jack – Nick would for sure be the annoying 'Bro" character we have seen emerging over the past few seasons. He sure is full of himself and loves to flirt with the ladies – despite getting into an emerging showmance with Isabella. He has found himself in the middle of a few alliances and got some info about the Black Widow alliance that Isabella formed without him. He kind of brushed it off and did not make it into the big deal that it is. Was that intentional – or is he just so girl drunk that he does not see this could come back to bite him? For now though – being the lesser of the evil guys has kept him out of immediate danger for the next few weeks.
Analyse Talvera – 1 strip of Tofu – Analyse has been in the right place at the right time and has been pulled into several real (and fake) alliances. She has not been the mastermind and has not added much strategy in the groups, but also is not coming off as a threat. She has had a few "mean girl" moments but still solidifying herself behind several meat shields bodes well for her game. For her sake, Analyse needs to stay out of any sort of showmance (or perception of one) with Jack or that target will pop up on her back.
Holly Allen – 1 strip of Tofu – while the same can be said of Holly's game as I said of Analyse – Holly is in a little more tricky spot if Kat stays this week. There is already an awkward love triangle forming with her, Jackson, and Kat – and I am sure this is something the producers will love to exploit. While she is also neither calling the shots or coming off as a target at this point, her game will depend on who she stays close with these next few weeks.
Kemi Faknule – 2 strips of Tofu – deemed public enemy #1 because of her early aggressive gameplay, Kemi has taken a step back and become a less threatening player. But in this game a bad move week 1 is hard to get some other players to ignore. Hopefully, the bonds she has made since then will help get her out of the hot water she put herself in – but players will go back to that as an excuse down the road as to why they are targeting her. I really want to see her & Isabella go far in the game cause they have all the potential to cause drama in a funny way. But I think Kemi will not be able to shake off the stigma. One can only hope a HoH win by her is soon so she can take some shots at the people that are threatened by her.
Jack Matthews / Jackson Michie – 3 strips of Tofu each – similar to the Bros last year (Winston & Brett) – early on these 2 are kind of inseparable game-wise & social-wise. They both have their own individual drama going on with the ladies, and both have come off super aggressive (to other players & behind their backs). Jack has had a little extra hate coming his way because of what he said to & about players causing a "fan" to create a petition to remove him from the game. Motivation on why both of them did what they did (Jack's comments. and Jackson's picks for banishment) is still a bit unclear because we missed the first few days on the feeds (this is one of the reasons why BBOTT was amazing!). But the fact that neither of them is aware the feeders see and hear all – and perhaps the "talking to" from production to Jack will slow him down from becoming even more hated. However – these 2 are the early villains of the season.
Ovi Kabir – 4 strips of Tofu – for someone who studied this game as much as he has – its sad he could not pick up on the signs that were all plotting against him. He was a little too touchy-feely early with some of the girls (especially when you have a GF outside the house) and he overheard a conversation but instead of doing more research first – he went back and blurted it to the wrong group of people. Jack was in the bed talking about this super alliance of 8 – and then Ovi tried to start an alliance with him. He did hear about the Kemi re-nom plan and instead of quietly going along – he was more vocal about it. After one of his alliance members nominated him, he still did not see the red flags. Once on the block – his overly aggressive style of campaigning has all but sealed his fate. He did try a last ditch effort by outting his power earned in the Whacktivity Comp – but again, how he did it – and who he did it to first – was not very good. Now, who knows what the next twist will be – so even if he is voted out tonight, he still may have a chance to come back in. Unfortunately, the damage has been done and getting people to trust him if he comes back will be next to impossible.
David Alexander – 5 strips of Tofu – since he is officially not out of the game just yet – I need to put him in the rankings – but cmon man… how do you lose the banishment comp? He really looked clueless in the dark and did not seem to make any sort of impact before that. If he comes back to the game – look for the house to rally around getting him back out.
That brings us to the Tofurkey of the Week – and that honor goes to Kathryn Dunn. We have seen so many strong female players emerge in the Blonde Bombshell role over the years – and this season we are given… Kathryn. Her whole game has been emotion driven and not much strategy. As the initial target somehow her lack of game savvy has made him an easier keep this week. She is just there until she gets on everyone's nerve and at that point, they will "pawn" her again – and get rid of her. She has been following Jackson around after their early "smoosh session" and getting super jealous when Jackson talks to/flirts with Holly.
There ya have it – week 1 is all but done – and the first live show will happen tonight. They say once the first person is evicted, that's when the game really starts to get real! This group has already been playing hard (some playing too hard) – so I am more excited to see who wins the next HoH and how that will shake up the game. That leads me to my Question of the Week – who do you want to win the next HoH??
Please let me know what you think of my column & answer my question in the comments section below. And for more thoughts on #BB21 – follow me on Twitter @HeavyMetalTeddy – and listen to my podcast Big Brothers – @BigBrothersPod
From outside the Big Brother House – I'm Adam Poch – have a great day!!