Former Big Brother Houseguests gathered this week for another charity event and continued the growing tradition we've been seeing of HGs putting their name & fame to good causes.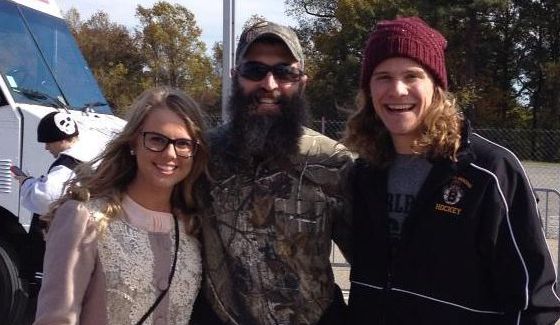 This time around we saw Nicole Franzel, Donny Thompson, Hayden Voss, and BB15's Aaryn Gries travel to Richmond, VA for the "Walkers 5K" over the weekend. The event benefited Toby's Dream Foundation and RIR Cares. Attendees were out for a run, jog, walk 5K with two goals: get to the end and survive the zombies!
Haycole, Donny, and Aaryn all appear to have emerged safely on the other side where they were joined by a Hantz brother, but not the one tossed out for throwing pork rinds at Janelle. (You do NOT throw pork rinds at Janelle! No.) Yep, there's ol' Russell Hantz getting cozy with Nicole and making friends with the HGs.
We might not have been able to make it out to the event, but luckily they were sharing a lot of great photos from this weekend. I'm liking Donny's strategy of wearing camo to blend in and avoid zombie-infested trails. That's his secret agent / surgeon mind fast at work there! Take a look below:
click images to see full-size
Image source: Twitter & Instagram