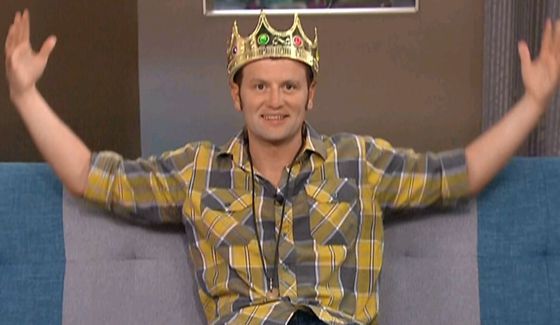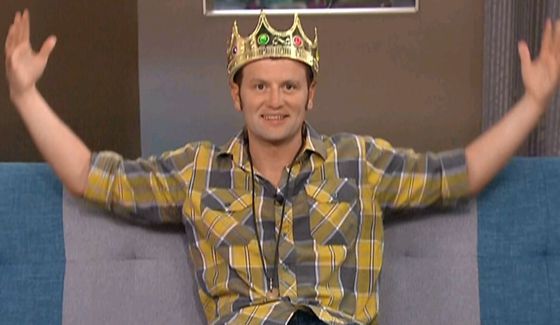 What a great week of Big Brother this week! I keep thinking what would the outcome have been had the houseguests not hit that big wonderful golden button? But thank God they did! We saw Frankie's eviction on Tuesday night but we actually got to see some more footage on Wednesdays live show and all I gotta say is, "yikes!"
The guys tell Frankie he is going to Jury and all of a sudden he turns into Castro telling them that they making a mistake because he will decide the winner of the game. I am very proud of how Caleb and Cody stood up for themselves and didn't let him belittle them. No matter who is related to who, no matter where you are from, no matter what religion, sex, nationality, or etc. you are, we are ALL equals in this world and I'm glad they didn't let the whole "status" intimidation factor effect their decisions.
And I am not leaving Derrick out because I'm saying he was intimidated I'm just leaving his name out because he kind of stayed out of the conversation but did tell Frankie he had respect for him as a player and kind of just left it at that which is a good route to take. BYE FRANKIE!!!
We see Derrick's post HOH win and he gets some Hollas from some Jury members and gets to hear his little girl give him a Holla. I'm happy that he got to hear her because I am sure he is missing her. I guess that's just an extra HOH bonus and I am happy that he got that. We get to see Derrick talk to the other three players and he has Caleb, Cody, and Victoria all fooled into believing they are his number ones in the house. He even convinced Caleb that he volunteered to go on the block which he did but Derrick completely manipulated him into volunteering.
I used to think that Derrick was just the best of the worse in the game and just getting very lucky but I was completely wrong about that. Derrick is a GREAT social and strategic player and that is the type of game that I like to watch as a fan of the show. I also like a good entertaining Houseguest though so he is lacking in that aspect to ME but who cares! If you have a flawless strategic and social game then that alone is entertainment.
We get to see BEASTMODE COWBOY's home segment and I loved how his parents talked about how he is a one upper and we get to see all of his out of this world tales. Caleb's tales remind me of that kid that everyone has in their class in elementary school that tells all these extremely unbelievable stories on a regular basis and nobody believes the stories but they are just so ridiculous you can't help but want to hear what they will come up with next, and nobody really calls them out on it because it's just an understood thing that they will never change their ways so you might as well sit back and listen.
I liked how Caleb's dad said out of the eight or nine thousand stories that he has told since he has been in the house, that each story has a DEGREE of truth to them EXCEPT THE DOG THING hahaha his dad didn't know what Caleb was talking about and I thought that was funny. Caleb's family seems like great folks!
We watch the final POV competition of the season and it is a really cool set up showing clues along with photos of the houseguests that the clues make reference to. This is one competition that I would have loved to do but never had the chance to do! Derrick was smart by not wanting to win this competition because it could completely ruin his game plus he doesn't need it.
Ultimately Cody wins the POV and earns his spot in the final three along with Derrick. Caleb still thinks that the final three deal he had with Cody and Derrick is still good so it is a little tough to watch them celebrate but I think that it would have been stupid for Cody and Derrick to stay loyal to that. I'm not sure if Derrick and Cody discussed Cody's speech before he gave it to Caleb and Victoria during the live eviction but he completely exposed Derrick and himself as a duo alliance. Cody looked a bit nervous while Victoria and Caleb were giving their speeches so maybe it was his strategy and if that is the case that is a GREAT move by Cody.
I am excited to see who will win the final HOH competitions and also see who they bring to the final two! I know that Derrick is the best player and I would like to see him win the game but I have a strong feeling that Cody will win that final HOH and bring Victoria to the final two. I'm not saying that I HOPE this happens but I do think that this will happen. I can completely see Cody being the winner of Big Brother 16. I wish them all the best of luck in and outside of the game!
I am raising money for St. Jude Children's Hospital by taking donations. Please donate anything that you can and if you are going to be in Knoxville on 11-22-2014 sign up to be on my team! Read the info and donate at this link http://bit.ly/st-Judd.
Y'all Herdat!
J-U-Double-D
Be sure to keep up with Judd online:
Twitter @JUDDNATION
INSTAGRAM @juddnationbb15
My website is juddnation.com (lots of videos with alumni – more to come)
Find me on Beamly
Ebay: juddnation
I am raising money for St. Jude Children's Hospital by taking donations. Please donate anything that you can and if you are going to be in Knoxville on 11-22-2014 sign up to be on my team! Read the info and donate at this link http://bit.ly/st-Judd.