Continuing in our Flashback series we've arrived at Big Brother 3 from 2002 where we'll find Julie Chen as the host once again as twelve strangers head inside for a chance at the half-million dollar prize.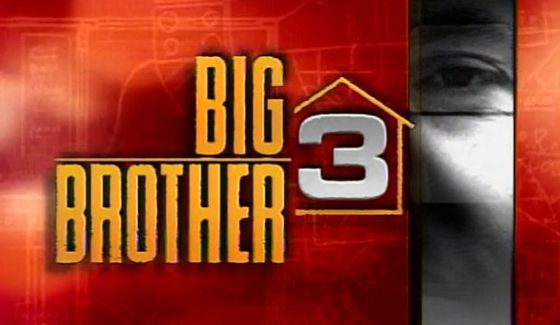 Following the lead of its predecessor, Big Brother 3's premiere has a very similar feel to what we saw the summer before (or last week if you've been following along). Julie gives us a brief intro before we meet the HGs in their hometowns as they receive a key and head out to the Big Brother house.
Big Brother 3 introduced us to the following Houseguests: Amy Crews, Chiara Jude, Danielle Reyes, Eric Ouellette, Gerry Lancaster, Jason Guy, Josh Feinberg, Lisa Donahue, Lori Olson, Marcellas Reynolds, Roddy Mancuso, and Tonya Paoni. Three of those names would appear again for Big Brother All-Stars, but only two made the cut to enter the house. We'll get there in another month.
The HGs gathered in front of the house and were sent inside in sets of four. Beds were at a premium this season with one room offering privacy thanks to a door while the other two main bedrooms were out in the open. One of those two rooms had real beds while the worst option had two cots and a bamboo bench. Ouch. Poor Jason got stuck with that one.
Soon Houseguests are grabbing drinks and toasting their arrival which brings out the personalities and quick-brew dislikes. Josh is the loudmouth leader and immediately clashes with Marcellas who later makes his permanent mark on Big Brother when he lets friendship get in the way of reason.
Off to the backyard the HGs go for their first challenge and just like last season it's an easy pickup of groceries for their first week. Again Slop isn't a thing this summer since PB&J line the pantry as a food punishment. HGs have to fill shopping bags with all the groceries they can hold and then dash up in to nests in trees. Any food they get up in the tree is theirs to keep for the week.
Once the food comp ended the HGs immediately began their first real challenge of the summer and just like season two, the last HGs standing (or sitting in this case) would be the winners. HGs had climbed up in co-ed pairs to the nests and as long as they didn't step out of the nest or drop anything they'd remain in the running. Last pair in their nest would earn $3K a week between them for each week that both were in the house. Heh.
After a few hours Big Brother changed the rules to be more restrictive and took away the HGs option to stand or hang out of the nest. This was problematic for Josh who let his foot slip out and ended his and Lisa's chance at the prize money.
Once half of the HGs were eliminated sides started to take shape. A little. The "down" HGs started discussing the idea of targeting the "up" HGs and this included Josh campaigning to get Marcellas out first because of his "negativity." That didn't happen as you'll soon see.
Eventually Jason and Lori win the competition after Danielle forced Marcellas to get down out of the tree, she didn't want that target on her back, and Roddy semi-stood up while shifting in his nest. That meant Jason and Lori would earn $3K between them for each week that both HGs stayed in the game… they earned $3K. Total.
The next morning HGs are up and adjusting to their new home. It's amazing how tiny the bathroom seems with the one shower stall, one sink, and an itty-bitty mirror for all of them to share. Much different from what we see now.
Once everyone is up and ready they settle in for the first Head of Household competition. In a copy & paste with a slight tweak format the "comp" is BB2's all over again as the HGs face the "wheel of first impressions." This time one player draws cards that ask "who is most likely to…" then he or she names a HG and does this a second time. The wheel is then spun and the name it lands on is the executioner. The spin-selected HG has to decide to eliminate one of those two players. It's a nice, harsh twist on last year's approach.
In the end it comes down to Lori and Lisa which lets the other ten HGs vote between them. Lisa receives eight of the ten votes and is crowned the first Head of Household for Big Brother 3. Lori came so close to safety and boy did she need it as she ends up being the first HG evicted that season. If I remember correctly there was quite a bit of drama stirred up when she calls a house meeting over Gerry not washing his hands. Ugh.
At the end of the Big Brother 2 premiere the narrator promises a season of adventures and brings up romances from the previous summer. Looks like they delivered updates on the Will/Shannon showmance and answered the question on whether or not Boogie and Krista got married after their BB2 Finale engagement. Hint: they didn't.
The biggest takeaway from BB3 was the absence of the Jury House and its impact on the game. Evicted HGs had the chance to go back home and watch the season where they saw Danielle decimate them in her snarky Diary Room sessions. When the Jurors returned to cast their final votes Danielle received just one vote despite having played an amazing game. Just watching her few DRs mixed in to the premiere reminded me of why she is one of my very favorite all-time Big Brother Houseguests. She was robbed. Sigh.
The next season the Jury House was created and kept the evicted HGs shut off from learning what the viewers knew at home keeping things isolated to what they knew on their own. Much better.
This was another fun, early season of Big Brother to go back and watch on All Access if you've already signed up. If you haven't then you can try it now at no-cost with their Free Trial. There are 545 episodes of Big Brother alone available right now to watch. Any season, any episode. Your choice. Check it out!
All Access Free Trial – Sign-up Now to Watch Big Brother!