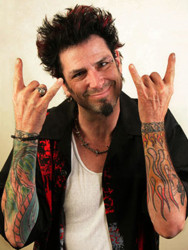 If you've been feeling like this batch of
Big Brother 12
HGs are a bit lackluster as compared to seasons in the past then tonight's your chance for some good ol' nostalgia. Evel Dick, the winner of Big Brother 8, will be joining the Big Brother Rewind online show from GFQ tonight at 7PM ET.
If you've got any questions you'd like Evel to answer about this season then be sure to share them here on this post and then check out the show, Sunday at 7PM ET at GFQ Live TV.
You'll be able to join in live on the show and send Evel Dick questions during the event if you log on while it's happening. Don't miss it!
Updated with the video of last night's Big Brother Rewind. Check it out below!