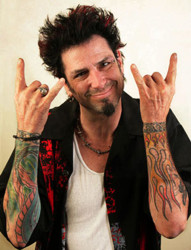 All season long
Evel Dick
, the notorious winner of
Big Brother
8, will be hosting the new live, pre-eviction shows each Wednesday at 4pm PT / 7pm ET. I think this is a really awesome idea and great way for
Big Brother 10
fans to get together and share their thoughts on the most exciting night in a Big Brother week.
Admittedly, I think last week's inaugural event had its share of bumps along the way (capacity filled very quickly, but that's a good sign of interest!) and so RealNetworks has responded with another great idea. Below is an embedded widget for watching, chatting, and even calling into ED's live show.
Be aware though, this is the last free broadcast of the event. Starting next week you will have to sign up for the Big Brother SuperPass to join in on the fun. If you're still on the fence about signing up for the uncensored feeds this should help give you a nudge in the right direction. Then again, last night I downloaded my monthly free album of DRM-free music from Superpass ($10 worth of mp3's every month for free), and that's always been a sweet enough bonus for me!
Sign up now for Big Brother 10 SuperPass and join the fun!