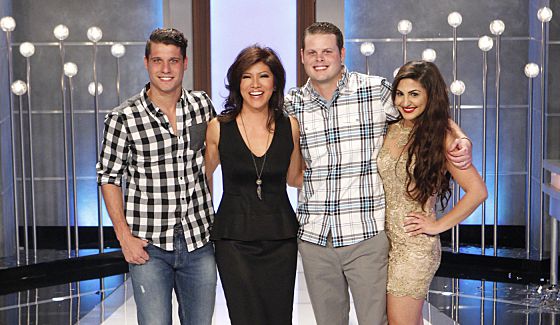 Cody Calafiore survived the season of Big Brother 16 to make it to the Final Two along with his Hitmen cohort Derrick. The Jury awarded the crown to Derrick, but Cody didn't walk away empty-handed either. He'll be taking home a giant check for $50,000 and according to our interview, he wouldn't reverse that decision to go with Derrick to the F2. Read what all Cody had to say about his Big Brother experience.
Matthew Boyer – Big Brother Network (BBN): Congratulations! You won your way to the end and are taking home $50,000. That's a big achievement.
Cody Calafiore: Thank you so much.
BBN: Going through the 7-2 votes, which ones surprised you the most whether they were for or against you?
Cody: Christine. Christine was definitely a big surprise. Victoria, another big surprise.
I really want to say Caleb because the entire time leading up to it all Caleb talked about was how he felt Derrick wasn't doing anything in the game. Then I was the one who won the comps to send Caleb out the door and Frankie out the door. Then I won the Final HoH comp to go in to it. I thought Caleb would be a slam dunk just based on what I know Caleb based a lot of his decisions on. So that was a huge surprise to me.
I knew Zach. I knew Frankie wasn't going to throw a vote my way. Those other ones were ones that were very surprising. Those were the ones I felt I needed in order to get me to those five votes. I knew I was going to have Donny and Jocasta.
Those other ones were the ones I needed to swing the game my way and those were the ones I was shocked that I didn't get. What are you going to do?
BBN: You stayed loyal with Derrick until the end, but did you ever have the thought that maybe you needed to go to F2 with Victoria?
Cody: Not even for a second. It never even crossed my mind. I felt like it was such a huge win to get the Hitmen to the F2 and honestly being the person who did it for the past three weeks to make sure that we were there. That was such a huge win for me.
Having Derrick and I sitting in the chairs together felt like a win in itself. Unfortunately the votes didn't go my way, but I really wouldn't change it.
BBN: Tell me about your relationship with Donny. There were those times when you two came together and would have real heartfelt conversations, but then you backed off. What was going on?
Cody: I knew early on that Donny was on the outs. I thought it was great that he wanted to work with me because I thought he was a super schemer. I thought he was a genius in the game.
Honestly in Week 4 I was livid that I had to put him up when I had someone like Caleb who said we were in an alliance but then took the money. After Caleb took the money I was extremely mad and Donny kept scratching at it. He really got me, but then I had my right hand man Derrick talk me down from it.
After that I really liked Donny in the game, but then in Week 9 when I was on the block we had a conversation. He was telling me who he thought the hidden hand of the House was. He was telling me he wanted to work with me and Caleb. That was a conversation I didn't tell anyone, not even Derrick. Then a day later Christine came to me that Donny was saying a bunch of stuff and that's when I thought he was just trying to play now.
It made me feel a lot less confident that I was the one he wanted to work with. He was going after Derrick. He obviously didn't feel confident enough to work with me, so when I had HoH he was the person I went after.
BBN: Say Derrick hadn't made it to the end, who would you have picked to press on to the F2 with?
Cody: Caleb. Once Amber left the house him and I got extremely close, as close as we could get. He's a good kid. He competed with everything he had and he stayed crazy loyal to the people he set out with in the beginning. So for me, if Derrick went that was the guy I would have absolutely tried to be close with.
Would it have been extremely tough to beat him if he was in the end? Absolutely. It goes back to "if you want to be the best, you've got to beat the best."
BBN: Your relationship with Christine obviously generated a lot of discussion out here. Have you had a chance to talk with her husband?
Cody: I gave her husband a big hug. For me I really didn't feel the need to bring it up to Christine. We had conversations after the Zingbot thing where I said I really don't want this to be uncomfortable. She was really, behind Derrick, one of the closest people I was to in the house. She told me so many stories about Tim, about her family, and I told her so many stories about my family. I felt like we were very close.
Obviously all the hair playing played in to that, but I felt like that was happening with everybody. She really was one of my best friends and I didn't view it at all, but I guess some people did. I feel like that put a huge wedge in our relationship and probably a huge wedge outside of the house which is very unfortunate.
BBN: What's your biggest surprise coming away from the game?
Cody: Team America. I'm obsessed with it. The fact that Derrick was in it and won so much money from it. Oh my God, why couldn't I be part of it? That would have been awesome, but I don't know if I would have done it as good.
BBN: If you could go back and have a do-over besides the F2, what would it be?
Cody: Not a single thing. The week we had the Rewind was the exact week I would have wanted it since we got Frankie out. Other than that, there's not a thing I would go back and change about the way I played the game or the way things unfolded.
BBN: What's going to be your favorite memory of the whole season?
Cody: It's tough to say one thing, but if you caught the things Zach would say, he literally had me crying so many times. Definitely those little comments that Zach would throw on people he didn't like was the most epic part of the season.
BBN: What's next for Cody?
Cody: I have no idea to be honest. I'm hearing a lot of different things. I'm just excited to see what the next chapter brings. Who knows, I'm just really excited to find out.
BBN: Thanks, Cody. Congratulations to making it to the Final Two and your $50,000 win.
Watch Cody Calafiore's preseason interview with us and compare his initial expectations with the final outcome of his game this season.