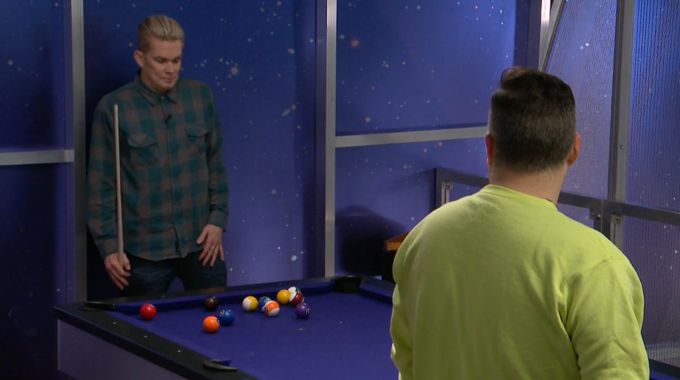 The Celebrity Big Brother Live Feeds are starting to feel like this is the final week of the game, despite there still being seven people in the game. Everyone is calm and drama has been at a minimum as they're just waiting to see what the Power of Veto competition brings this week.
Missed Tuesday's earlier events? Go back to read the daytime highlights first before going through the overnight updates below.
If you've got the Live Feeds (Free Trial) then you can watch all of these moments with the Flashback feature to go back and watch those important conversations or funny scenes you may have missed.
Celebrity Big Brother Live Feed Highlights – Tuesday, February 20, 2018:
5:38 PM BBT – Feeds return from the Nominations Ceremony. Brandi and Ari are on the Block.

5:40 PM BBT – Mark explains that he had to come up with some sort of justification for putting them on the Block. He's asking Brandi and Ari to not take it personally because he really does like them.

5:45 PM BBT – Brandi and Ari agree that they knew this was coming even if it's still hard to accept. Ari is disappointed that Mark didn't put up Omarosa. Brandi explains they probably have a deal together and Mark knows he has to break up the foursome. Brandi is nervous that Ross may have known and been in on the decision.

6:05 PM BBT – Ross doesn't think he can vote out Brandi, but Marissa says she could. Ross thought Mark and James might betray them and put them up instead so he was relieved when it wasn't their faces on the screen.

6:10 PM BBT – Marissa promises she won't lie to Ross. They don't think it matters too much who goes this week and they should still be fine.

6:20 PM BBT – Brandi warns Mark that James has done too well in the game and is a threat to win against at the end. She says she'd rather get to the end with Omarosa and him (Mark). Mark says that James being good at challenges is good for him since James is his ally.

6:25 PM BBT – Brandi asks Mark to not tell Ari that she's up by association with Brandi since that might make her feel bad about being friends with Brandi.

6:45 PM BBT – Marissa promises Ari that she won't vote her out and she's been keeping her in mind with her actions in the game.

6:55 PM BBT – HGs continue their billiards tournament upstairs while Omarosa and Marissa talk about how much fun the last live Veto comp was to play.

7:00 PM BBT – Feeds cut.

7:25 PM BBT – Feeds return from players pick. Ross is hosting. Everyone else will be playing.

7:30 PM BBT – Ross tells Ari that he doesn't want her or Brandi to leave. He says he wants someone to use the veto and put Omarosa up.

7:39 PM BBT – Marissa tells Ross that Mark said if anyone comes off the block Omarosa has to go up and then they'll send her out. She said he asked her not to try to win the veto because Brandi needs to go. Marissa says she, James and Omarosa will vote to evict Brandi.

8:22 PM BBT – Ross talks to James about how he will vote this week. He says he wanted to vote for Brandi to stay but he doesn't want to go against everyone else. James says he thinks Brandi would still vote for Ross to win in the end, despite how he votes this week.

8:30 PM BBT – James and Ross discuss end game and how they really want the four of them in the end. James thinks no one would like it if Omarosa wins the game.

8:33 PM BBT – Brandi doesn't think Mark will put up Omarosa if she or Ari come off the block after the veto competition.

8:46 PM BBT – Brandi is disappointed in Ross because she thinks he knew she was going up and didn't tell her as they agreed to do for each other.

9:30 PM BBT – Celebrities are playing pool again. Not a lot going on tonight.

10:05 PM BBT – Backyard has opened up again.

11:00 PM BBT – James tells Brandi that she's not nice to him and doesn't have to be mean all the time. She says it's because he's too cocky. James says he's ready to send her out.

11:05 PM BBT – James goes inside and complains to HGs he encounters that Brandi isn't nice to him.

11:10 PM BBT – Brandi questions if she's being mean or just truthful.

11:20 PM BBT – Mark tells Ross that Brandi is definitely going next after that scene.

11:25 PM BBT – Omarosa warns Ari that if Brandi wins Veto then she (A) will probably be punished to indirectly hurt Brandi.

11:30 PM BBT – Marissa comforts Ari that the group wants Brandi gone, not her. She says if Brandi wins Veto then Omarosa will go up

11:45 PM BBT – James is still upset about Brandi. Mark is talking with him and agreeing that she's been mean to him. James is annoyed that Brandi thinks she's saved him.

11:50 PM BBT – Brandi confronts Marissa about talking with James about him being upset at her (B). She's upset that HGs were agreeing with him that she had been mean to James.

12:15 AM BBT – Brandi has gone to bed. The group discusses the drama. Their sympathy is mostly with James for how Brandi has been acting.

12:20 AM BBT – Ari questions what will happen if Omarosa wins the Veto and saves Brandi. James says Omarosa wouldn't do that because she doesn't like Brandi and Omarosa would think there's more potential to work with Ari than Brandi. They agree they need to be sure to beat Omarosa in the Veto comp.

12:35 AM BBT – Marissa wonders if they could convince Ari to target Brandi next should the situation come up where someone gets renom'd next to Ari and they barter to keep her.

12:45 AM BBT – James hopes they can have a topic other than the game tomorrow.

1:00 AM BBT – Most of the HGs are asleep. Marissa is restless and gets up later to wander before returning to bed.
Brandi didn't do herself any favors tonight, but she was already well in danger of eviction next so it probably didn't matter. Veto is coming up on Wednesday and will decide if we'll get the preset events or if someone can mix things up and change the week's course.
You can watch all of these Big Brother events using the archives Flashback, the DVR-like feature of this year's Live Feeds which means it's always live, even when you missed it! Sign-up now to get the free trial to watch it all live & uncensored.

Gallery: Live Feeds Highlights