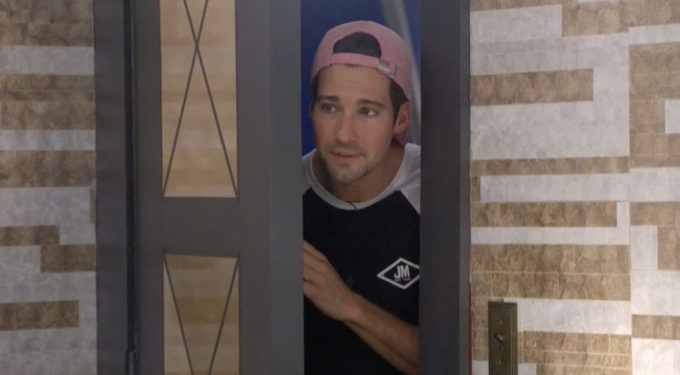 The Celebrity Big Brother houseguests spent the day planning and plotting the next round of targets since they're pretty set on this week's target. The veto ceremony came and went, and the pawn that went home shouldn't have anything to worry about since there's only one day until the next eviction. Read on to find out who the nominee was and what the HGs have planned for the next eviction and beyond.
If you've got the Live Feeds (Free Trial) then you can watch all of these moments with the Flashback feature to go back and watch those important conversations or funny scenes you may have missed.
Celebrity Big Brother Live Feed Highlights – Thursday, February 15, 2018:
9:00 AM BBT – Feeds return from wake-up call. HGs start getting up and moving about. Metta tells James that he talked to Shannon and she really wants to stay in the game. James says everyone wants to stay.

9:53 AM BBT – Metta wants to tell Ari and Brandi that he feels bad for Shannon and will sacrifice himself for her. Mark tells him not to feel bad that Shannon got herself in this position.

10:30 AM BBT – HGs talking about old jobs and things. Nothing much going on at the moment.

11:22 AM BBT – Marissa and Ross planning on Omarosa being the next target after Shannon. They said if James wins HOH they will push for him to get her out.

11:28 AM BBT – Shannon goes to the HOH room to tell Ari and Brandi that Metta said he could go home this week instead of Shannon. Brandi tells Shannon she doesn't think there's anything that can be done to save her this week.

11:36 AM BBT – Shannon is still campaigning to Ari and Brandi. James peeks his head and in a halts the talk for a section. After James leaves, Shannon tells them that they should focus on breaking up a pair instead of sending her home since she's aline in the game. She says Ross and Marissa are a pair and James and Mark are a pair. She says she'd break up one of the pairs, probably Mark or Ross. She says Omarosa is also an option since she's lying to everyone. Brandi says Omarosa isn't a threat because she's alone and everyone knows she lies. Ross and Marissa come in and talk breaks up.

11:50 AM BBT – Shannon, while doing Ari's hair, tells Brandi and Ari that if the two of them get split up they're going to be all alone. She says that she and Metta have both said they will do what they can to help Brandi and Ari, but they can only do that if they're still in the game. Shannon is trying her best to convince them to keep her this week.

12:08 PM BBT – Ari, Brandi and Marissa are discussing the next targets. They say they could put up James and Mark or backdoor James. They agree that those two need broken up. Marissa says they could also go after Omarosa if James is safe.

12:11 PM BBT – Ari asks Marissa if she has anything with James and Mark. Marissa says absolutely not. Ari asks what about Ross? Marissa says she can't speak for Ross. Ari says she thinks Ross has been acting weird.

12:18 PM BBT – Ross shows up to defend himself, since his ally Marissa refuses. Ross says that Shannon is as dangerous as Omarosa right now with planting seeds of doubts.

12:19 PM BBT – Brandi says Omarosa is going to be floating by for a bit. Ross says not if James wins HOH. He says they could get her to be his target instead of one of them.

12:22 PM BBT – Ross says they could put Mark up this week next to Shannon since he volunteered before. Ari says they shouldn't poke the bear with Mark and should go with Omarosa. Everyone else thinks it should be Mark because Metta could make it a tie and Ari would have to break the tie to evict Shannon.

12:25 PM BBT – Ross brings up the point that since Omarosa has gone back and forth on Shannon, she might have an interest to keep her. So he says maybe they should put her up so she can't try to keep Shannon this week. Marissa says she doesn't want her mad, though. Ross says she probably already thinks she's going up.

12:35 PM BBT – Feeds cut. Time for Veto ceremony.

1:28 PM BBT – Feeds return from the Veto ceremony.

1:29 PM BBT – Shannon is telling James that she's not mad at him. She says it's hard to play Big Brother with people who have no idea about the game.

1:30 PM BBT – Shannon tells James that he needs to break up the Marissa/Ross duo because they're a big threat.

1:32 PM BBT – Ross tells Ari, Brandi and Marissa to beware because Shannon will start dropping atomic bombs on her way out of the game.

1:34 PM BBT – It's confirmed that James used the veto on himself and Ari named Mark as the replacement.

1:35 PM BBT – Ross tells Ari that he's proud of her and he's happy they were all loyal to each other. Ari says that Shannon has to go because she has already been throwing Ross and Marissa under the bus. Ross says that he is not with James and Mark. Ari says she knows that.

1:39 PM BBT – Ross asks James who he will target if he wins HOH. James says he's not sure but he would like the final four to be himself, Ross, Marissa and Mark. Ross says they should focus on getting Omarosa out next. James agrees that she is too toxic.

2:05 PM BBT – Mark tells Metta that he is going to win this game. Omarosa says if Metta is in the final two he has her vote.

2:10 PM BBT – Mark says he feels safe being on the block right now because everyone is very certain Shannon is going home. James says he should feel safe.

2:52 PM BBT – Brandi talking to Ari, Ross and Marissa says that if for some reason James wins HOH, that's when Ross and Marissa will have to put up Omarosa and Metta. And then Ross will have to tell James that he wants a final three with him and Mark. Ross says if he does that then no one can believe he is really in a final three with them. Brandi said they won't.

2:55 PM BBT – The HOH crew go over what to do if Friday night is a double eviction and the HOH is something Omarosa can win like True or False (it's not and it's not). But if the next HOH is not won by James or Omarosa, then they backdoor James. But if James can't go, then Mark goes. They think Omarosa isn't as dangerous since they know not to believe what she says.

3:07 PM BBT – Shannon talking to herself says she cannot wait to go to Starbucks. She has seemingly accepted her fate.
So it sounds like Shannon is going home Friday night and Mark should be totally fine. Unless something crazy happens. You can expect the rest of the night and tomorrow to be discussions about who the next target will be.
Read Thursday's overnight Feed Highlights Report to find out what happened next on the Feeds.
You can watch all of these Big Brother events using the archives Flashback, the DVR-like feature of this year's Live Feeds which means it's always live, even when you missed it! Sign-up now to get the free trial to watch it all live & uncensored.

Gallery: Live Feeds Highlights