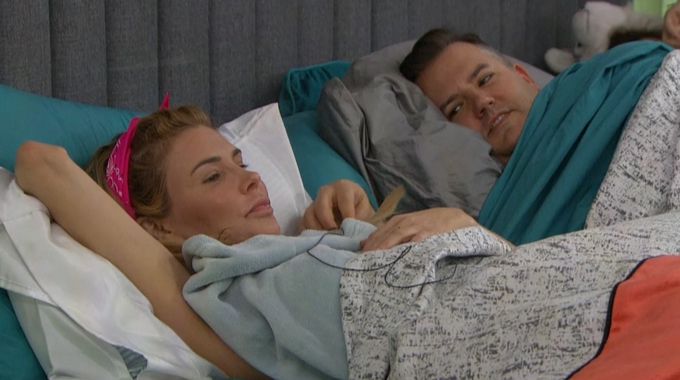 This round on Big Brother we've got an interesting situation with a new Veto twist that's going to keep us from easily predicting who is going home tonight. In the regular summer season we'd already know the final noms and most of the votes, but this is no regular season.
Right now we've got the noms on the Block and the votes laid out if nothing changed, but this crazy Veto is making all that rather uncertain. We may end up seeing both noms still on the Block or two entirely different players on the Block by the time the votes are cast. Heck, we don't even know who will be playing for Veto to constrain the choices likely to be made given the twist options. Yikes. All the same, we can take a look at the situation and make a few guesses on what to expect.
Scenario 1) Ross & Brandi remain on the Block.
In this situation, Brandi will be evicted. Ross has votes of support coming from Marissa, Mark, and James. 3-2, Brandi goes out the door.
Scenario 2) Ross comes down, Marissa goes up next to Brandi.
Here Brandi is again evicted. Ross votes to keep Marissa along with Mark and James since they set up a F4 deal.
Scenario 3) Brandi comes down, Marissa goes up next to Ross.
Marissa is out the door. Ross gets Mark and James but loses Metta's vote. That leaves this up to Ari and Brandi. They're close to Marissa, but I think they're closer to Ross and trust him more.
Scenario 4) Veto twists start mixing things up.
This is just too complicated to predict very well, but here we go with a look at each of the three Veto twist options.
Scenario 4.A) If it's the Diamond Veto then the winner gets to take down a nom and pick the renom himself or herself. That one isn't even forced to be used in which case go back to Scenario 1.
Scenario 4.B) VIP Veto situation could see Ross save himself if he wins it then wait for Omarosa to renom Marissa, then use it again on Marissa. In this particular set up I think Mark would be the one to go up and probably gets voted out. Lots of variations here but it's also worth noting the power does not have to be used at all so again we're back to Scenario 1.
Scenario 4.C) Spotlight Veto means the PoV must be put in to play. Ari would save Brandi, see Scenario 3. Marissa would save Ross, and since she's protected we'd see Mark up and out. Metta would probably save Brandi since he knows Omarosa really wants Ross out, then Marissa goes up and out. James and Mark would save Ross, Marissa gets renom'd, and that leads to Brandi's eviction. Omarosa would save Brandi and renom Marissa who goes home.
So I think that covers the major possibilities, which probably means some variation that I didn't cover will be the one to happen. I think this is a good pass at what could happen tonight though. Ross is Omarosa's big target, but just as she's admitted to herself, he's going to be tough to get out this round. Brandi and Marissa seem like more likely targets.
Who do you think will be evicted tonight on Big Brother? Vote now in our poll and share your thoughts below.