Big Brother fans love a good power shift, and we got one this week on Celebrity Big Brother, but a Hail Mary from the losing side of the house might have actually worked.
Sunday night's episode picks up during the Head of Household competition (not to mention during the Super Bowl).
The six eligible players are all on the wall battling it out in a game of endurance. Miesha can't compete, so she needs one of her boys to win it to keep her safe. But Carson's team knows this is their one shot to go after Miesha, so they're ready to fight hard.
Lamar is the first one out after 21 minutes. Cynthia follows him off the wall about 14 seconds later.
Todd drops next after 50 minutes. Todrick, Shanna and Carson remain. And Miesha knows the numbers aren't in her favor. So the pressure is on Todrick.
And then Shanna drops at 55 minutes and 44 seconds. So it's between Carson and Todrick.
Todrick almost slips, and knows that he doesn't have much left, so he decides to ask Carson for a deal. Todrick asks Carson if he drops will be not put him up or backdoor him. He says he promises. So Todrick drops. Carson is the new Head of Household!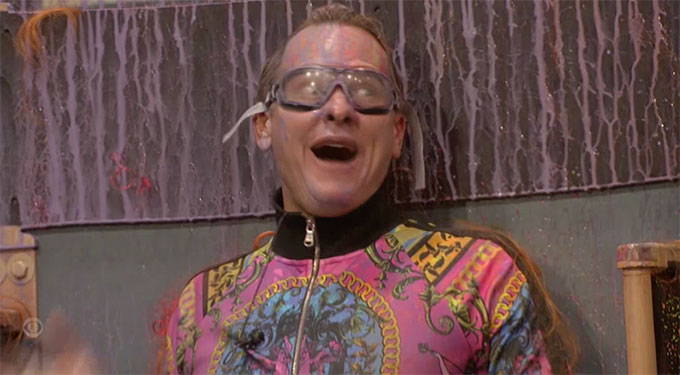 So Cynthia, Shanna and Carson are happy, but Miesha is sweating, especially after she saw Carson and Todrick talking up there. She realizes he made a deal, and it likely didn't include her.
Carson lets Shanna and Cynthia know that he made a deal with Todrick, but Miesha will definitely be going up. And since Todd is so loyal to Miesha, Todd will likely go up next to her.
Miesha is so bitter that she doesn't even go up to see Carson's HOH room reveal.
After that poor display of sportsmanship, Carson lets Todrick know that he's going to put up Miesha and Todd, and then asks him to not use the veto if he wins it. Todrick says that's a bit scary, but Carson, Shanna and Cynthia tell him that they were a foursome before, so that could happen again. Carson said he would love for that to happen again. Cynthia and Shanna tell him they agree, and would love for them to get to the Final 4.
Todrick is worried that he would be on the bottom of that foursome. So he runs to tell his Queen Miesha what just happened. Todrick comes up with a plan to reveal to the house that Shanna was working with everyone, and that she was even working against Carson and Cynthia at the start of the game.
So Todrick and Miesha go and do just that. Todrick first grabs Cynthia. He tells her that Shanna has been trying to get Carson out the whole time. Shanna was working with everyone, but Todrick exaggerates it and admits in in the Diary Room that he definitely exaggerated it.
So then Miesha comes in and piles it on to Cynthia. And she believes them. Carson comes in during their conversation, and they fill him in on their exaggerated story. And Carson believes it too for some reason. It took almost no work for them to get Carson and Cynthia to believe their story.
Miesha tells Carson to go ahead and put her and a pawn up, and then they can backdoor Shanna.
Shanna realizes something is up and asks Carson what happened. Carson lets her know what Miesha and Todrick said. Shanna said she tried to make sure she was safe at the beginning, but she was never throwing them under the bus. So then Carson and Shanna go to talk to Cynthia. She explains it to Cynthia, but she isn't interested in hearing it. They really believe Miesha and Todrick.
Then the whole house meets in the kitchen and it's all discussed very openly and loudly. They all gang up on Shanna and Miesha and Todrick pull out some Grade A gaslighting and pretty much shut Shanna out. She tells Carson to just put her on the block if she's going to believe Miesha and Todd over them.
So let's get to the nomination ceremony and find out what Carson decided to do. It looks like he's still interested in the backdoor Shanna option, because he goes with his initial nominees of Miesha and Todd.