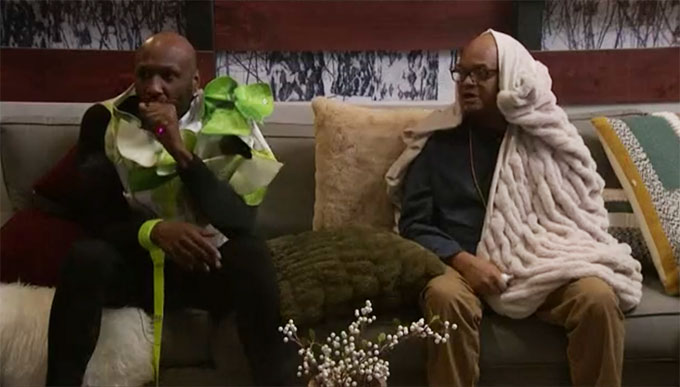 It was a quiet evening in the Celebrity Big Brother house, despite a new round of nominations. Most of the evening was spent just chit-chatting and hanging out while Todrick continued talking about Shanna every other conversation. We expected to see a disappointed and regretful Carson and Cynthia after their wacky gameplay last round, but it seems they haven't a care in the world.
If you've got the Live Feeds (Free Trial) then you can watch all of these moments with the Flashback feature to go back and watch those important conversations or funny scenes you may have missed.
Celebrity Big Brother 3 Live Feed Highlights – Tuesday, February 15, 2022:
3:28 PM BBT – HGs wondering if they're going to get wine tonight.

4:01 PM BBT – Feeds cut for the nomination ceremony.

4:51 PM BBT – Feeds return. Todd nominated Carson and Lamar.

4:55 PM BBT – Lamar asking Todrick when he has to pack. Todrick says he only has to pack if he's still on the block after the veto.

5:20 PM BBT – HGs are just hanging out, chit-chatting, and snacking. No major talks going on.

6:15 PM BBT – Todrick and Miesha discuss who is more irrupting between Lamar and Todd. Miesha says Todd is more irritating.

6:28 PM BBT – Todrick is complaining about having to wear his punishment costume.

6:45 PM BBT – Cynthia says she can't figure out what they gave them the chance to both be safe this week by not putting them on the block (Cynthia could win veto and save Carson). Carson says if he goes this round then Cynthia goes next and then that final four is successful.

6:50 PM BBT – Cynthia tells Carson that she learned very early on not to underestimate Todd in this game.

7:33 PM BBT – Todrick continues to talk about Shanna.

7:50 PM BBT – Todrick is talking about his ex with Miesha.

8:08 PM BBT – HGs all having dinner together.

8:44 PM BBT – Todrick is once again talking about Shanna. He says he guesses she's talking to the jury right now, turning them against him. Todd says he thinks Shanna is at home not giving a F—.

8:45 PM BBT – Most of the HGs hanging out outside. Todrick says Tamar told him it's going to be hard for him to not sing in the house for a month. He says they talked about how they put singers in the house for a month and expect them to not sing.

8:46 PM BBT – Carson is cleaning up the kitchen while Cynthia is in the Diary Room.

9:18 PM BBT – Cynthia tells Todrick she doesn't understand why Shanna was so upset with them for those last few days. Cynthia says she was upset with Shanna so it was awkward.

9:35 PM BBT – Todrick and Cynthia discussing that it would have been more exciting of a show for Shanna to play and win the Veto.

9:40 PM BBT – Todrick wonders who Shanna would have nominated. Cynthia thinks it would have been Carson. Miesha says probably her and Todrick.

10:33 PM BBT – Todrick explains to Cynthia and Miesha that his Cameo recordings are not unique and he does the same message for everyone. He hopes the cameras aren't on him right now.

11:00 PM BBT – Miesha feels Shanna based her value on her looks and Miesha doesn't like that.

11:05 PM BBT – Todrick continues the complaints of Shanna, saying Shanna lacked ethics and a moral compass while surviving on her looks. (Stay classy, Todrick.)

11:50 PM BBT – Todd announces he wants a new computer when he gets home because his has Windows 95 but he wants to play games.

12:10 AM BBT – Todd and Lamar going over the week's events and when is the next eviction.

12:20 AM BBT – Todd warns Lamar that Carson is too well-liked and they don't want to have to sit next to him. Lamar asks if they're voting out Carson and Todd confirms.

12:30 AM BBT – Miesha, Todd, and Lamar talk about a regular summer season duration and not being able to do 90 days compared to a month for this version.

1:00 AM BBT – HGs winding down for the night.
Todrick is struggling to get Shanna's name out of his mouth as she's set on replay in his conversations. Meanwhile, Carson and Cynthia don't seem too worried about anything this week and if Carson doesn't turn it up then he'll be out the door next, probably followed by Cynthia. Go figure.
You can watch all of these Big Brother events using the archives Flashback, the DVR-like feature of this year's Live Feeds which means it's always live, even when you missed it! Sign-up now to get the free trial to watch it all live & uncensored.


Gallery: Live Feeds Highlights
Download our Big Brother App, join us on Facebook & Twitter, and get our Email Updates for more!