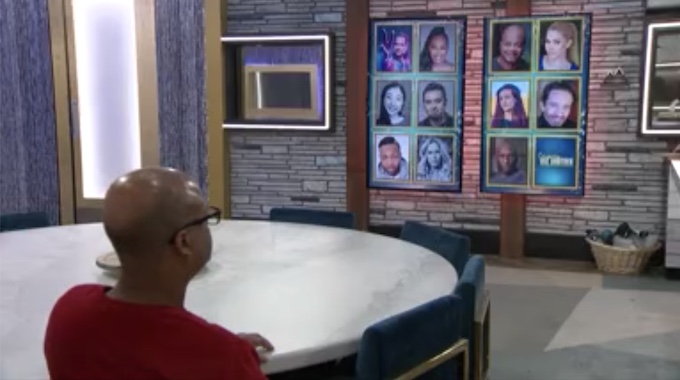 It was a slow start to the day with the Celebrity Big Brother 3 houseguests getting a later wake-up call than usual. One of the Celebrity Big Brother houseguests is getting a bit fed up with the others not doing their part of the cleaning. The Head of Household is still trying to pinpoint a plan for today's Nomination Ceremony, but they seem to have a good idea of what they are doing. Read on to find out what's going on.
If you've got the Live Feeds (Free Trial) then you can watch all of these moments with the Flashback feature to go back and watch those important conversations or funny scenes you may have missed.
Celebrity Big Brother 3 Live Feed Highlights – Tuesday, February 8, 2022:
10:35 AM BBT – HGs are waking up.

10:45 AM BBT – Chris Kirkpatrick is complaing to Todd about how not everyone in the house is doing their part to keep the house clean.

11:15 AM BBT – Kirkpatrick and Shanna are talking in the storage room about how being there isn't even fun anymore. Shanna adds that people in the house are just not nice.

11:25 AM BBT – Todd is complaining to Shanna and Cynthia about Chris Kattan. He says that Kattan came out of the room and asked him and Lamar to be quiet. Todd says that he didn't say anything to them being loud before and adds that he can't have it all. He already moved where he was sleeping for Kattan.

1:00 PM BBT – Kirkpatrick joins Shanna and Carson in the back bedroom. Kirkpartick tells them that he just needed to be around his friends. They talk about how stressful it is in the house because of little things like not cleaning up after themselves and being considerate of others.

2:00 PM BBT – Todrick tells Miesha that he is really aggravated with Kirkpatrick because he feels like Kirkpatrick doesn't respect him as a person. He is also worried that Kirkpatrick is going to be gunning for him. Todrick tells Miesha that Todd told him that Kirkpatrick can't be trusted.

2:03 PM BBT – Todrick tells Miesha that after they get Carson out, it doesn't benefit him at all to go after someone like Cynthia. He says he would probably go after Kirkpatrick if given the opportunity.

2:05 PM BBT – Miesha tells Todrick that she really wants to get Carson out this week. She mentions that if Carson takes himself off the block, then they can send Kattan out since he wants to go home.

2:10 PM BBT – Todrick is worried about whether he can trust Cynthia and Miesha says that Cynthia is so much more loyal to Todrick than she is to Kirkpatrick. Todrick wonders if Kirkpatrick would take a shot at him if he wins the next HOH. Miesha says that she thinks that he would, but that he wouldn't have the numbers anyway.

2:30 PM BBT – Todrick says that he thinks that Kirkpatrick is jealous that Todrick is so close to Miesha because he wishes that it was him. Mentions how Kirkpatrick is a huge fan of hers and he wants to be the closest person to her in the house.

2:33 PM BBT – Todrick says that he doesn't trust Kirkpatrick, however, he is shifting into Operation: Be Kirkpatrick's Best Friend as soon as he walks out of the HOH room.

2:40 PM BBT – Todrick says that Carson and Kirkpatrick are his top targets. He says he doesn't think that Kirkpatrick is someone who can win the game. He says that Carson is someone who can win this game if they don't take him out. Miesha brings up that Todrick should consider trying to make a deal with Kirkpatrick just in case he wins HOH again next week.

3:00 PM BBT – Miesha and Shanna are in the HOH and Miesha is reading her letter from her HOH basket. Meanwhile, Cynthia is doing her makeup downstairs and chatting with Carson.
It sounds like Miesha's current plan is to put Carson and Cynthia on the block together with Carson being her target. If the Power of Veto happens to be used on Carson, then the backup plan is to send Kattan out of the door. Todrick seems to really want to see Kirkpatrick leave in the near future, but I don't think that Miesha is going to make that happen for him. We will have to see where the next few days take us.
You can watch all of these Big Brother events using the archives Flashback, the DVR-like feature of this year's Live Feeds which means it's always live, even when you missed it! Sign-up now to get the free trial to watch it all live & uncensored.


Gallery: Live Feeds Highlights
Download our Big Brother App, join us on Facebook & Twitter, and get our Email Updates for more!