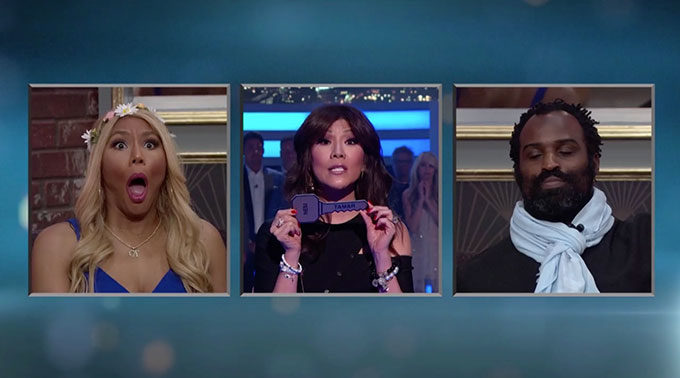 Last night the second season of Celebrity Big Brother came to a close as Tamar Braxton walked away with the grand prize and Tom Green snatched the America's Favorite Player award. It was a quick but intense season, so it's time to look back at the Best and Worst Moments of the season!
The Best and Worst Moments of Celebrity Big Brother 2019
THE WORST
5. Too Many Live Vetoes. I understand the condensed timeframe meant a lot had to be crammed into very little time, but those several live vetoes were just really bogus. Nominees, or replacement nominees had very little time to campaign and who knows how things could have changed had the competitions and ceremonies not been live. The only time live vetoes are fun is during double evictions.
4. The Mooch "Twist." A lot of people are still scratching their heads over whatever the whole Anthony Scaramucci thing was about. Was it REALLY a twist or did he quit? Who knows. And who cares honestly. It all played out like a really odd ploy and regardless of what the truth is, it was super lame.
3. Kandi Burruss misses the Final 4. A lot of readers picked Kandi in our "Who Should Win Celebrity Big Brother" poll (and so did I), so a lot of people were disappointed when Lolo voted to evict her and Ricky broke the tie. Who knows what would have happened if Kandi had moved onto the final 4 and competed in that HOH. She was good with memory stuff. Was that FINALLY her comp to win? We'll never know.
2. Tom Green is Evicted. Now that Tom won AFP, it's safe to say a lot of people loved him. So watching him get evicted after playing such a great game was hard to swallow. And really, his game was smooth until they pulled out the Power of the Publicist twist, which really tanked Tom's HOH and ultimately his game. But he could have handled it all better, so I'm not placing the full blame on that twist.
1. Ryan Lochte Out Too Soon. Our readers and me shared another bond this season and that was our love of Ryan. He fared very well in our America's Favorite Player poll, meaning he stole the hearts of a lot of fans. I was really bummed to see him go so early. He was fun to watch (how many times do you get to watch an Olympic Gold Medalist train for the next Olympics in the BB back yard?) and was sure to be a comp beast. We were robbed of a lot of fun.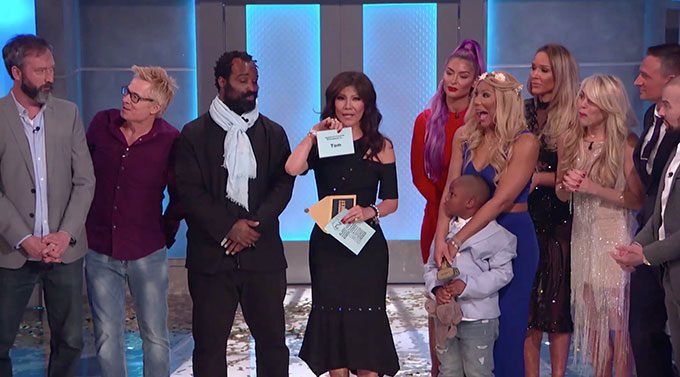 THE BEST
5. The Competitions. I don't know if the competition producers/designers were just pulling out all the stops because this was Celebrity Big Brother, or they were suddenly given more freedom from the EPs or they were all high all season, but whatever it was really freaking worked. The competitions were elevated this season and I hope they continue to impress in the "regular" seasons. Some of my favorites were Slaughter House, the black and white color blast veto, and the living art competitions. Oh and that laser comp! They were just all so good.
4. Tom Wins AFP. Of course this was a great moment! It was well-deserved and sort of a consolation prize. And the look on Natalie and Lolo's faces when it was announced was pretty priceless.
3. The Relationships. And I don't mean showmances! Gross. It was nice to see genuine relationships form. The whole Ryan/Joey bromance was so fun to watch and it's great that they're now lifelong friends. And of course it was so sweet to watch Tamar and Kandi reconcile and end up being two of the closest people in the house. Kandi's eviction speech and what she said just before voting for Tamar to win were definitely highlights of the season for me.
2. The Drama. We love a good, dramatic season of Big Brother. And this season delivered like almost no other. From Tamar's sass to Tom's paranoia to Lolo's mania, it was one dramatic moment after another. There was never a dull moment on the Live Feeds (unless it was one of the really bad blowups from Lolo that left the feeds down for far too long). This was just a really fun season and I think the trick there is it's not as long as a regular season and they aren't a bunch of single 20-somethings looking for Instagram followers.
1. Tamar Wins Celebrity Big Brother 2. What a great winner. She had her moments where I thought "WHAT IS SHE DOING," but it all paid off. She won unanimously, becoming the first black winner of the US franchise. And it was just a fitting result because the entire season felt like she and Tom were the two stars of the show. I am rarely completely happy with a Big Brother finale, but this time I was. Congratulations to Tamar!
What were your best and worst moments of the season?
Celebrity Big Brother Best And Worst Moments Photo Gallery