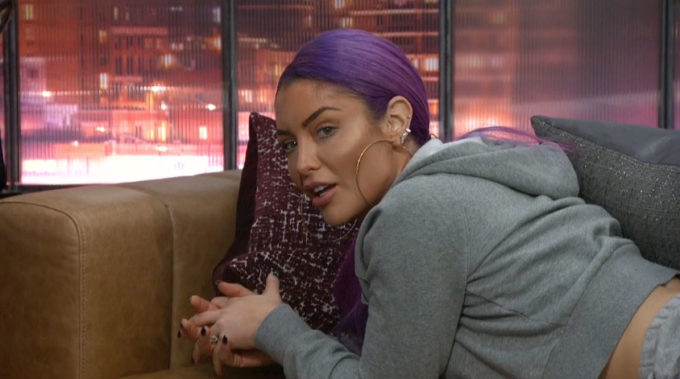 Believe it or not, there are only seven days left of Celebrity Big Brother 2019. And with seven houseguests remaining, a lot has to go down from now until finale night.
Of course we get rid of two this week in the double eviction Friday night, leaving us with the final five. But who will that five be? Without a working crystal ball, that's hard to say, so we'll just have to look at several scenarios. What we know for sure is the first person evicted this week won't be Tom or Kandi. And it probably won't be Tamar. Tom's target is one of the three of Natalie, Ricky and Lolo, and in that order. I expect Ricky to be the one to go the first round, even though Natalie is the biggest threat in that group (I just have a felling Natalie will win veto). Which gives me the perfect segue to looking at pathways to the end of the game.
Right now, I think Natalie has a great shot at getting there. She wasn't even on the radar until Kandi pointed her out to Tom. Which says a lot about Kandi's game. But I don't think Tom or Kandi have a very clear path to the end. Kandi has successfully laid low while taking it all in, and now that it is time for her to play, people aren't happy with that. So I think she joins Tom as the next two targets for the other side of the house. Tamar has protected Kandi in the past, but now Tamar is either actually upset with Kandi's bond with Tom or really putting on a show for Lolo and Natalie. If the latter is the case, then Kandi might not be as in trouble as it seems.
Tom is everyone's target, basically (well, except for Kandi – she knows the trio is the real threat in the game). Even Dina told Natalie and Lolo that Tom is the biggest threat. So if Dina some how accidentally wins an HOH competition, she would look foolish not targeting Tom. So I don't see Tom getting to the end at this point. So to keep score here, Ricky and Tom are probably out at this point (unless Ricky wins the Power of Veto today and all this analyzing is worthless – ha!).
So that leaves all the women. Lolo and Natalie are a pair, and without Ricky, they'll likely depend on Tamar. But Tamar knows those women are threats. Tamar will want to hold onto Kandi, who most people see as someone who hasn't played the game and probably wouldn't vote for her in the end. Dina will be there until there's no one else available to send home. So right now, I think we could be looking at a Lolo, Natalie, Dina final three or a Tamar, Kandi, Dina final three. In either of those cases, I see Dina finishing third.
Of course there could be some wild card randomness go down and we end up with Lolo, Natalie and Tamar final 3 or any variation really. Dina kind of has that Double Eviction elimination vibe about her. It's Big Brother. We know the motto. But right now, at this very second, this is how everything is looking. And if I tried to look at this any deeper, my head would probably spin. It's just a unique season because we are seeing a lot of things we don't normally see. For example, the men outnumbered the women at the start of the season but we've seen ONLY men evicted. And we are very-well poised to see all the men evicted first. That would be historic for the game. Or maybe Tom will just keep winning all the competitions and get to the end that way.
Regardless of what goes down, Big Brother Celebrity Season 2 has been another great season. That's 2 for 2 in the CBB world and I hope we get more and more. I'm starting to prefer it to regular seasons.
What do you think of the state of the game? Who do you see getting all the way to the end and winning Celebrity Big Brother 2019?